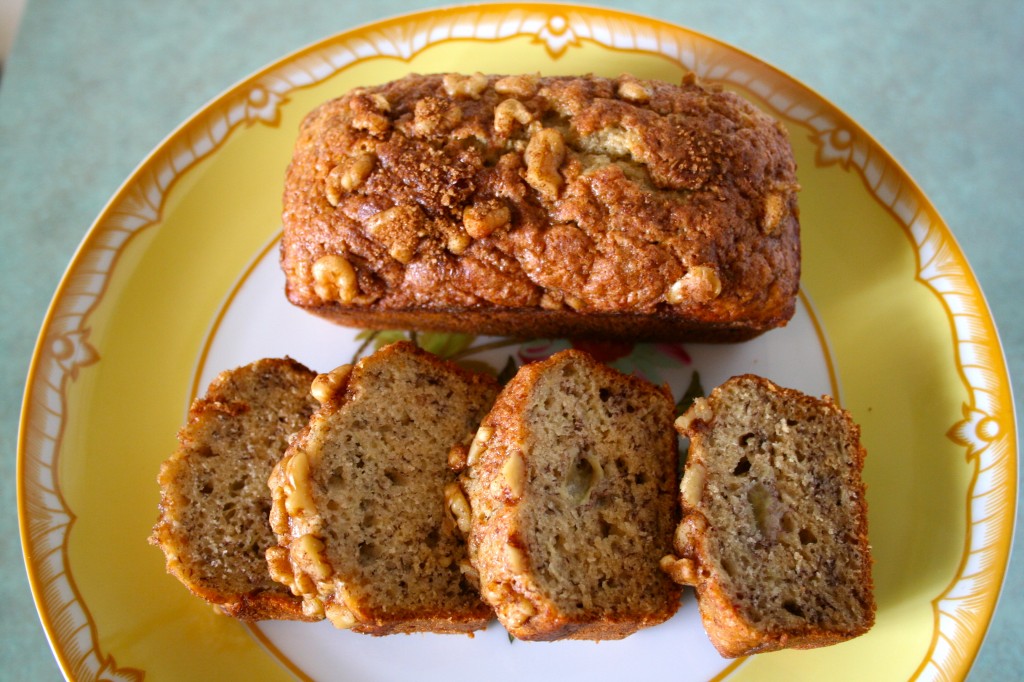 Margot and I walk every morning. At half-past six, I put on my running shoes and take her down stairs. For once, our college-neighborhood is quiet and calm. The heat is not oppressive, even though we can feel the promise of a scorching summer day. Across the street, our neighbor's kitten can often be found frolicking in the tall grass of his yard (I've thought about stealing this kitten many times).
And then we walk through Hemp Hill Park, a stretch of green surrounded by beautiful homes in one of Austin's more historic neighborhoods.
On many mornings, I walk and think (this does, after all, sound like the perfect time for reflection).
But today, I listened to Terry Gross talk to Louis C.K., and unsurprisingly, I was moved by their discussion.
Terry (because we're on a first-name basis) has a way of drawing people out, of asking them the hard questions without appearing insensitive. Louis C.K. cried during his interview and I found it touching to listen to a man both intelligent and hilarious bear the broken parts of his soul.
He said something that resonated with me deeply. He talked about life, and about our false perceptions of possession. We often say things like "my life…" or "her life…" which separates living into discrete and unique stories. How terrible that this happened to her life… How lucky this happened to his…
And these simple words, pronouns often, push us apart from each other in ways that can be detrimental to both collective and individual happiness.
Louis C.K. and Terry Gross talked about how we, as humans, are all in this together. It's not my life, or his life. Instead, we are all part of a larger, more mysterious, and wonderful condition.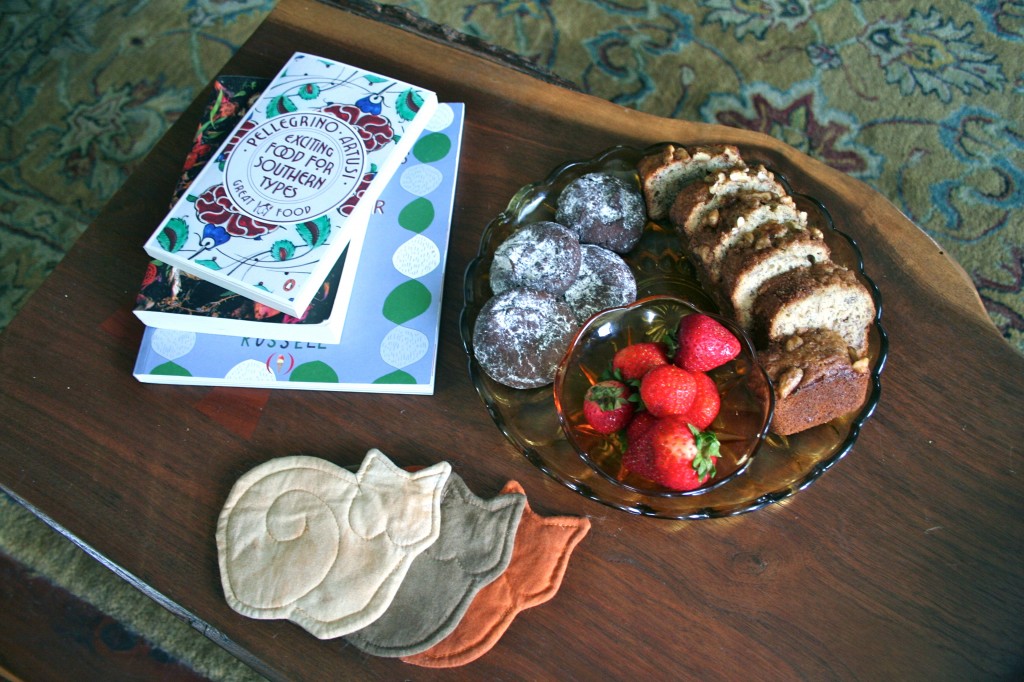 Now I'm not saying there is no such thing as individuality. That would be foolish and easily refuted. But I am recognizing the importance of human connection. As I saw people mourn the loss of life, as I heard people celebrate new birth, as I listened to my own dreams and to the dreams of others, I realized again and again that we are all in this together.
On Monday, a dear friend and a reader of my blog, brought me this beautiful yellow cake stand. I was touched and honored to receive it…and in that moment I felt the strong pull of our common humanity. We drew closer together in those moments, and the day ended with me feeling a little more alive.
In return, I offered a few humble slices of this banana bread (not the fairest deal, I know). But I hope she realized it was made with love. And I hope she also felt more connection.
So now that I've waxed on about life and philosophy, I'll command you to go make banana bread. Because I'm convinced that food also serves an important purpose in the realm of unity and connection. It is something that we all do, no matter where we come from or what burdens we bear. It is a place where we can share and nurture each other, and it's why I love doing it, day after day.
And I love banana bread, so you better believe this is a good one.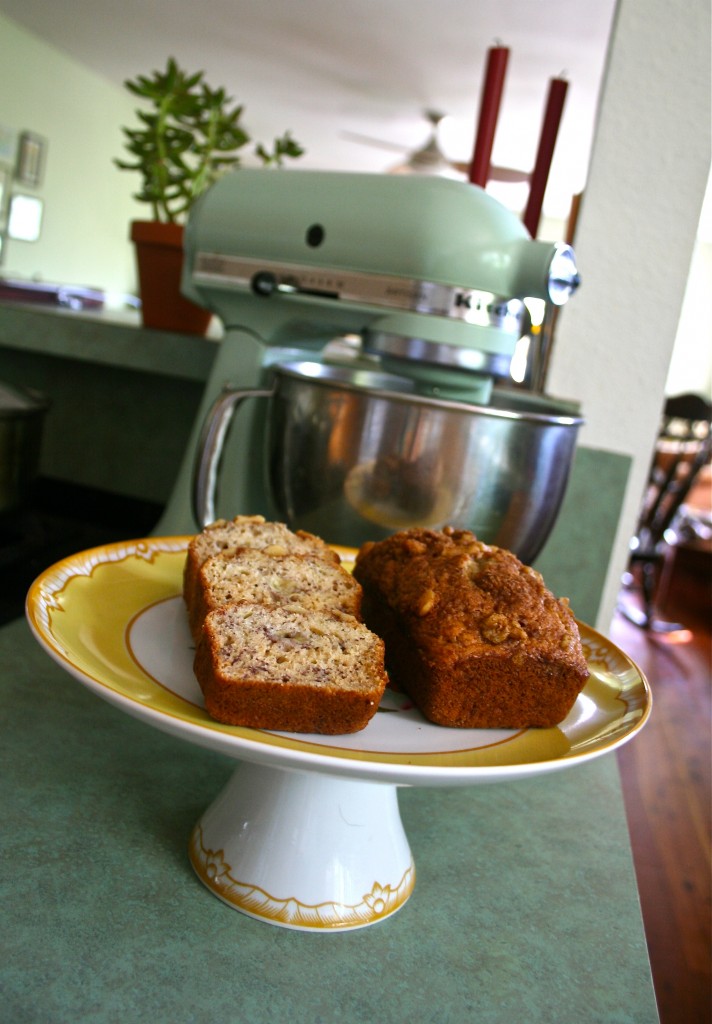 Banana Bread
2 cups all purpose flour
3/4 cup sugar
3/4 teaspoons baking soda
1/2 teaspoons salt
1 teaspoon cinnamon
1/4 teaspoon cloves
3 bananas (very ripe and mashed well)
6 tablespoons butter (melted and cooled)
2 eggs
1/4 cup sour cream
1.  Preheat your oven to 350 degrees Fahrenheit.  Grease an 8.5 x 4.5 inch loaf pan (or grease 3 mini-loaf pans).
2.  In a large bowl, whisk together flour, baking soda, salt, and spices.  Set aside.  In a medium bowl, whisk together bananas, butter, eggs, sugar, and sour cream.  Gently fold the banana mixture into the flour mixture with a rubber spatula (do not over-mix). The batter will and should look thick and chunky.
3.  Scrape the batter into the prepared pan(s) and smooth the top. If desired, sprinkle chopped nuts or cinnamon and sugar on top.
4.  Bake until golden brown and only a few moist crumbs cling to a toothpick inserted in the center (about 50 minutes for a regular pan, about 20 minutes for mini pans). Let the loaf cool in the pan for 10 minutes before turning out onto a wire rack. Allow to cool for 1 hour before serving.
Monet
Anecdotes and Apple Cores