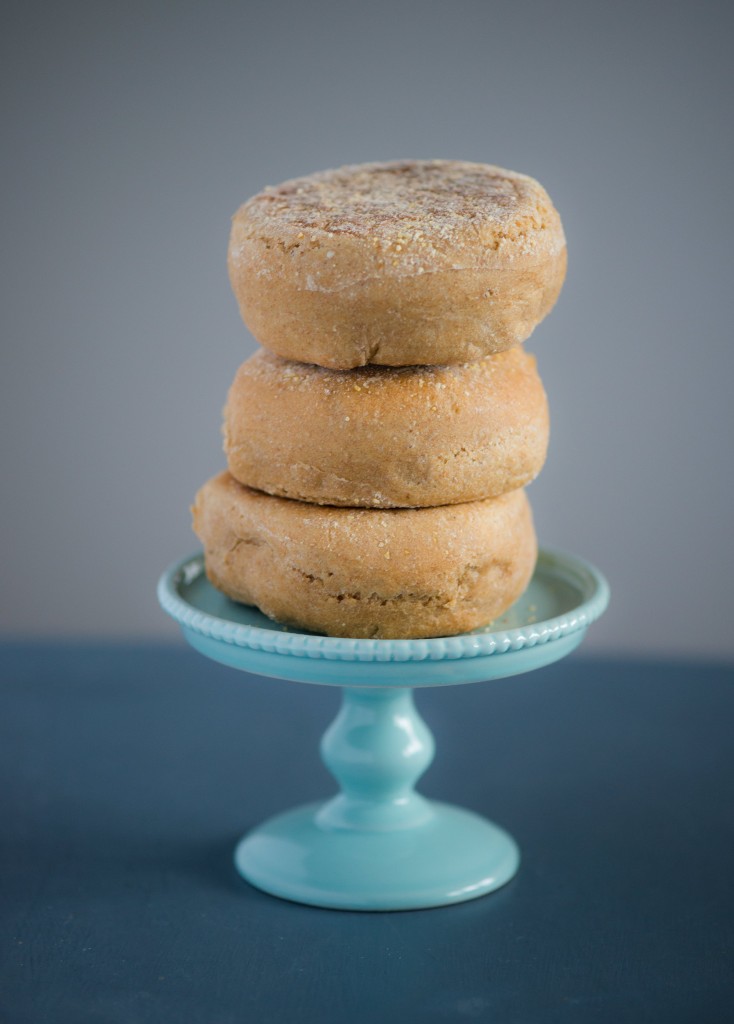 Do you remember your first "adult" breakfast? The breakfast you ate after mom or dad no longer set out your cereal bowl and poured you a glass of orange juice? Mine occurred sometime during middle school–maybe my 7th grade year–and when I had full say over what I could eat for breakfast each morning, I choose the obvious: bread.
Wheat english muffins with a slather of peanut butter and jam. Wheat english muffins with a scrambled egg. Wheat english muffins with a dab of butter. You get the idea: I loved wheat english muffins. When I was pregnant with Lucy and horribly sick during my first trimester, I ate wheat english muffins by the dozen. Breakfast, lunch, and often dinner. We went through a bag every other day.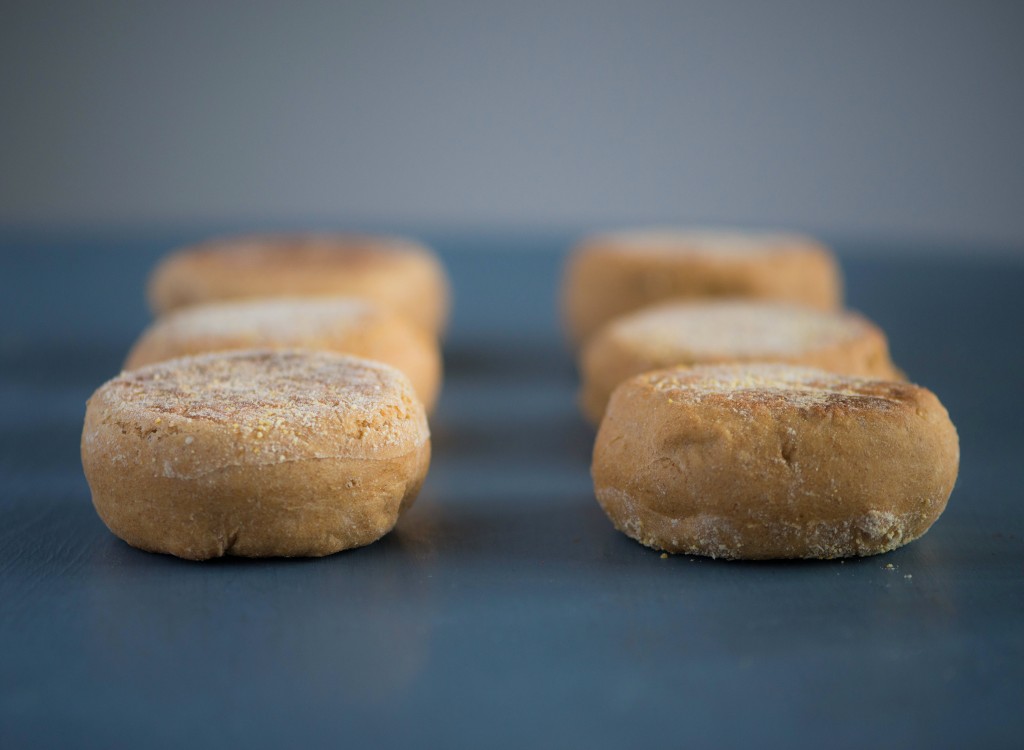 My love for wheat english muffins hasn't diminished. In fact, I think I took my love to a whole new level on Sunday. Ryan and I made this beautiful batch of homemade wheat english muffins…and I don't know if we'll ever go back. These beauties only need 20 minutes of rising time before they're on the skillet and in your oven. They rise beautifully and easily turn your kitchen into a bakery…the smell alone will make the time worth it. And they make the perfect vehicle for all kinds of goodness: spreads, eggs, avocados, melted cheese….you probably already have your favorite in mind.
Homemade Wheat English Muffins
2 1/4 cups whole wheat flour
2 1/4 cups bread flour
1 teaspoon salt
1 tablespoon sugar
1 teaspoon baking soda
2 teaspoons instant yeast
1 3/4 cups whole milk
3 tablespoons butter
1 large egg, beaten
Cornmeal, for dusting
In the bowl of your stand mixer, whisk together flours, salt, sugar, baking soda and yeast. Set aside. In a small saucepan, combine the milk and butter. Heat over low until butter just melts. Allow to cool slightly. Combine the milk mixture with the egg and the dry ingredients. Mix for one minute until dough comes together. The dough will be wet (this is good!)
Turn the dough out onto a floured surface and lightly roll into a one-inch high rectangle. Using a large biscuit cutter, cut out rounds of dough. Place on a cornmeal dusted cookie sheet. Sprinkle the tops of the english muffins with additional cornmeal. Cover with a kitchen towel and allow to rise for 30 minutes.
Preheat oven to 325 degrees Fahrenheit. Heat a cast iron skillet on low and cook the muffins 4-5 minutes per side, until crispy and brown. Place muffins on cookie sheet. Finish cooking the english muffins in preheated oven for 12-15 minutes.
These will keep for at least one week in an airtight container. Split muffins with fork and toast before serving.