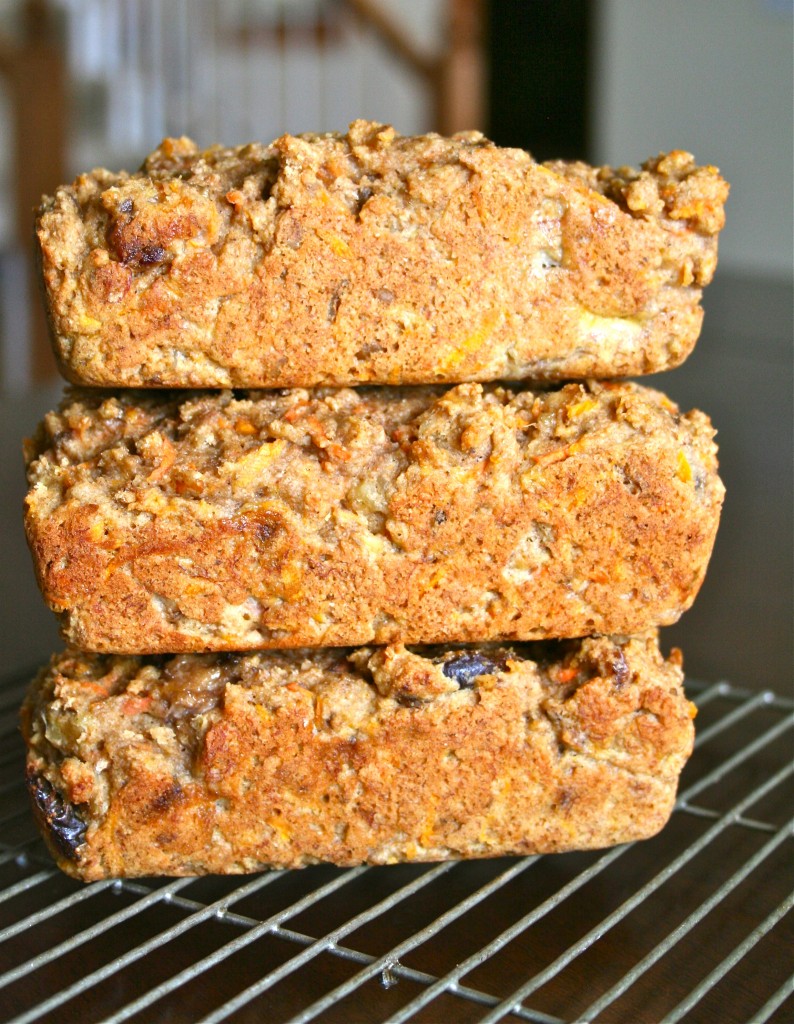 Hard to believe, but my second trimester is coming to a close. Ryan and I completed our hypnobirthing class on Monday, and we found a sweet doula, Sarah York, over the weekend. After much thought and debate and prayer, we've decided to give birth at the hospital. Thankfully my OB is a family friend and lives just three houses up from my parents. Even more reassuring, she had natural births with all four of her children and is excited about my choice to avoid as much medical intervention as possible. Perhaps next time around, we'll consider doing a home birth or making the drive to Denver, but since there is so much I don't know about labor and delivery, I believe the hospital will be the best atmosphere for Lucy's arrival.
That being said, I'm working on a birth plan that is both specific and purposeful. We talked about birth trauma in our hypnobirthing class, and the concept has guided my thinking as I consider labor and delivery. We often forget that babies are an equally important part of the birthing process. Their tiny, flexible bodies work down through the birth canal, leaving behind the safety and security of the womb. It is their lungs that must take those first gasps of air and their eyes that lock onto the faces of their mothers. As we enter into the third trimester, I'm preparing my body and my soul for a peaceful and joyful birth. One in which Lucy feels no fear. Now of course, so many different scenarios can occur and birth rarely happens the way we expect. But I do know that my mind and my soul can hold onto the promise of hope and peace no matter what turn my birthing may take.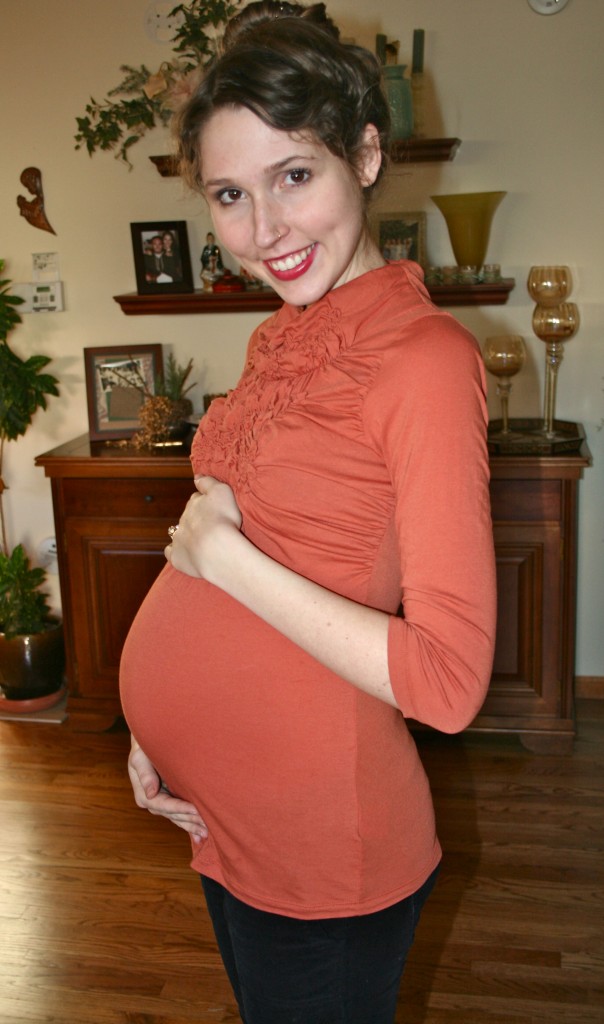 As I mentioned last week, my appetite has grown IMMENSELY. I feel like I need to eat every two hours…and not just a granola bar…a hefty meal. Last night, I ate an apple, peanut butter, a whole wheat bagel, two slices of cheese and cinnamon raisin bread. All of this consumed after a full dinner of pasta and shrimp. She's growing, I'm growing, so I'll keep on eating as much healthy and real food as my body demands.  Thankfully, I haven't had any cravings for cake or cookies or ice-cream. I tend towards more savory food or treats that have been naturally sweetened, like this Carrot Cake.
We had a few friends over for dinner on Saturday night, and I wanted to offer them both a healthy and not-so-healthy dessert option. This carrot cake seemed like a natural choice for the beginning of March. As I grated carrots and chopped dates, I felt Lucy's foot along the right side of my abdomen (her very favorite place to remind me she's there, inside me). I gave her a gentle rub and continued on with my mixing bowls. Now, as a baker, I read dozens of recipes each month. I spend more time baking than most people spend cooking. So I know that 4 oz. of butter is equivalent to one standard stick. However, pregnancy brain has been a definite symptom this trimester, and on Saturday, when I read 4 oz. of butter in the recipe, I cut my stick in half, only melting 2 oz.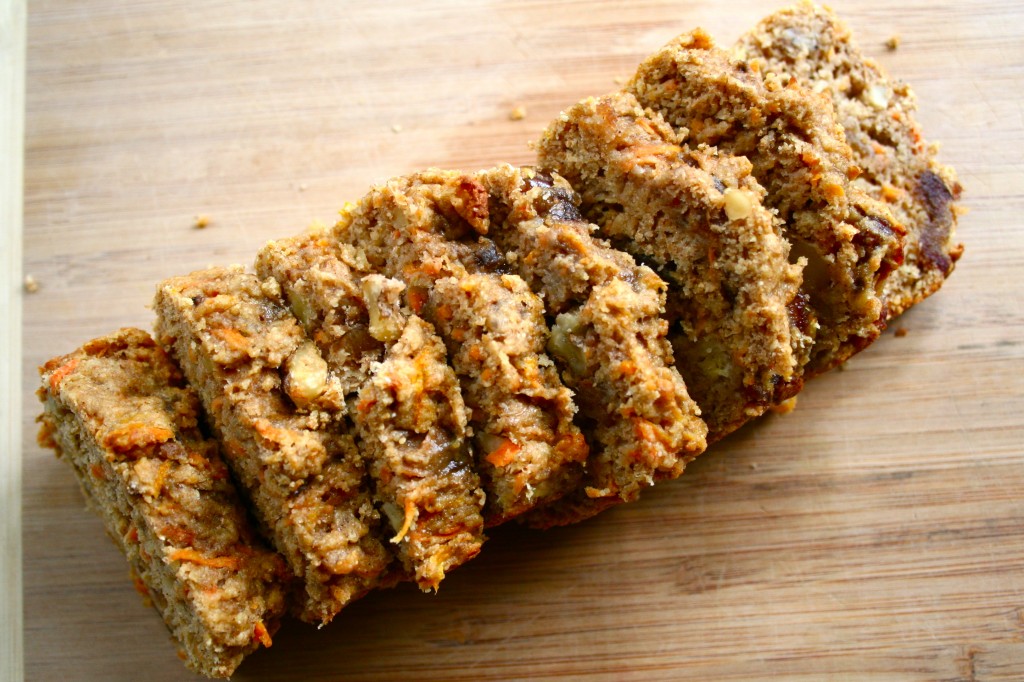 As often happens, I realized my mistake mid-bake. The loaves were already rising in the oven, and there was nothing I could do but hope that they still tasted okay. Much to my delight, the carrot cake loaves were still moist and light, not too greasy but flavorful. Not only had my mistake not been fatal, but I actually preferred the carrot cake with 1/2 as much butter as the original recipe calls for.
Now, as a word of caution, this is a lovely carrot cake recipe, but there is absolutely no sugar, no honey, no maple syrup. Ripe bananas and dates provide all the sweetness. So if you're looking for a classic carrot cake, I'd find another recipe. But if you're like me, this naturally sweet carrot cake will become a favorite. It's wholesome, moist, and full of texture and flavor. A real winner in my book…and I think Lucy likes it too.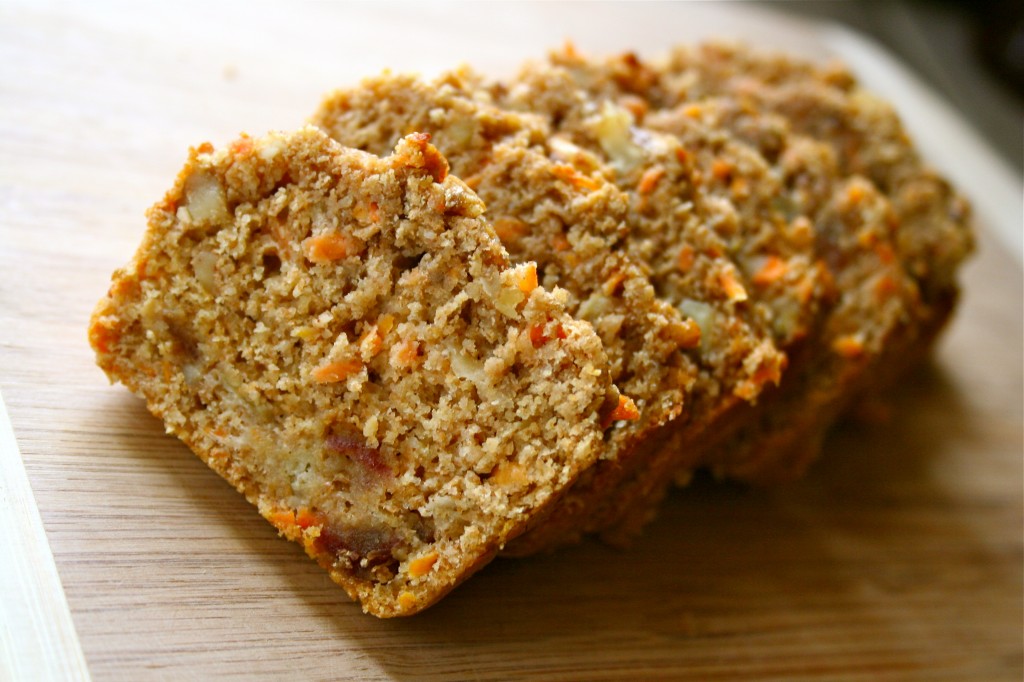 Naturally Sweet Carrot Cake
Adapted from 101 Cookbooks
2 cups whole wheat pastry flour
2 1/2 teaspoons baking powder
1 1/2 teaspoons cinnamon
3/4 teaspoon fine grain sea salt
3/4 cup finely chopped walnuts
2 ounces unsalted butter, heated until just melted
1/2 cup dried dates, seeded and finely chopped into a paste
3 ripe bananas (1 1/4 cups), mashed well
1 1/2 cups grated carrots (about 3 medium)
1/2 cup plain Greek yogurt
2 eggs, lightly whisked
Preheat oven to 350 degrees Fahrenheit. Butter a standard 8-cup loaf pan (or 8×8 cake pan or four mini loaf pans) and line it with parchment paper.
In a small bowl, sift together the flour, baking powder, cinnamon, and salt. Stir in the walnuts and set aside.
Stir the dates into the melted butter, breaking up the dates with a knife or fork.
In a large bowl combine the bananas and carrots. Stir in the date-butter mixture, breaking up any  clumps as you go. Whisk in the yogurt and the eggs. Add the flour mixture and fold until everything just comes together. Spoon into the prepared pan (s). Bake for about 50 – 60 minutes (35-40 for mini loaf pans) or until a toothpick tests clean in the center of the cake.
Allow to cool for ten to fifteen minutes before removing to a wire rack. Eat within one day or two of baking. These loaves freeze well, so don't be shy about saving a loaf for next weekend.
Monet
Anecdotes and Apple Cores