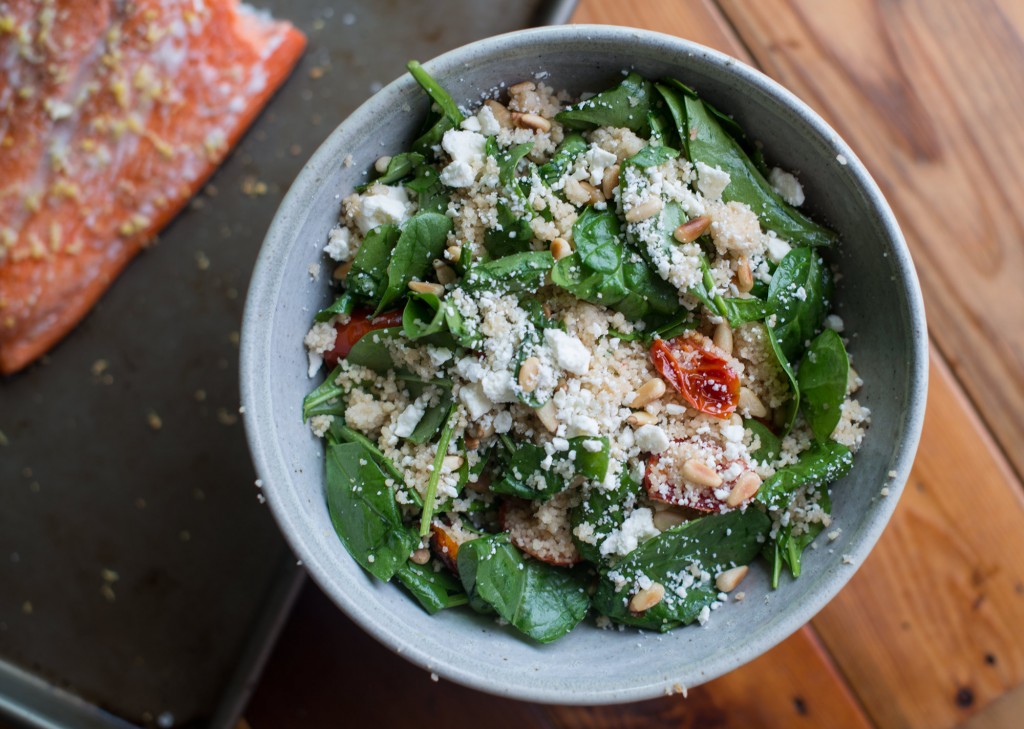 We returned home from West Virginia late Monday night. It was a good trip. One of those trips you almost wish was a little less good…because then it wouldn't hurt so much to say goodbye. My little sister and I are four years apart, and we're now over one thousand miles away from each other. She's one of the brightest, most loving and sacrificial people I know. I miss her more than words can convey.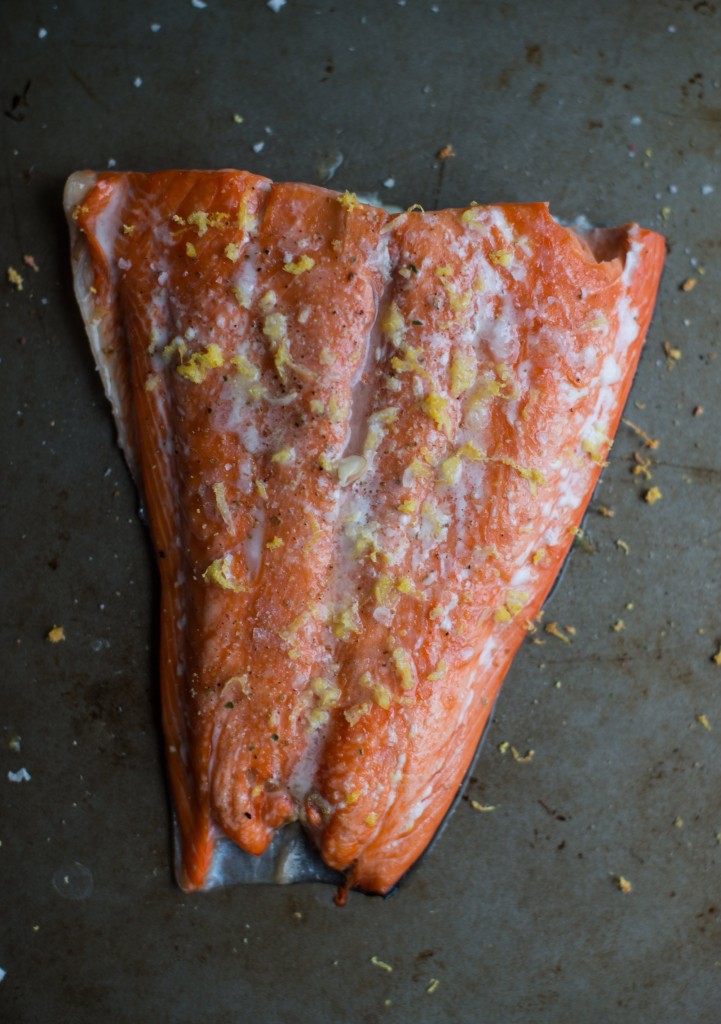 And so, as is custom around here, I'm baking and cooking to work through my sadness. There's nothing quite as comforting to me as a clean kitchen and a refrigerator stocked with fresh produce. Give me a few hours…and I can work through most tangles of emotion.
Happily, these therapy sessions tend to be good for both my heart and my stomach. I've made quite a bit of salmon over the last few years, but I've finally hit on recipe gold. This salmon is slow baked, which means that my days of overcooking salmon are officially over. You'll find that this method almost always guarantees an intensely moist and flavorful filet. I couldn't stop rejoicing as we ate our way through dinner–I finally figured out how to do this!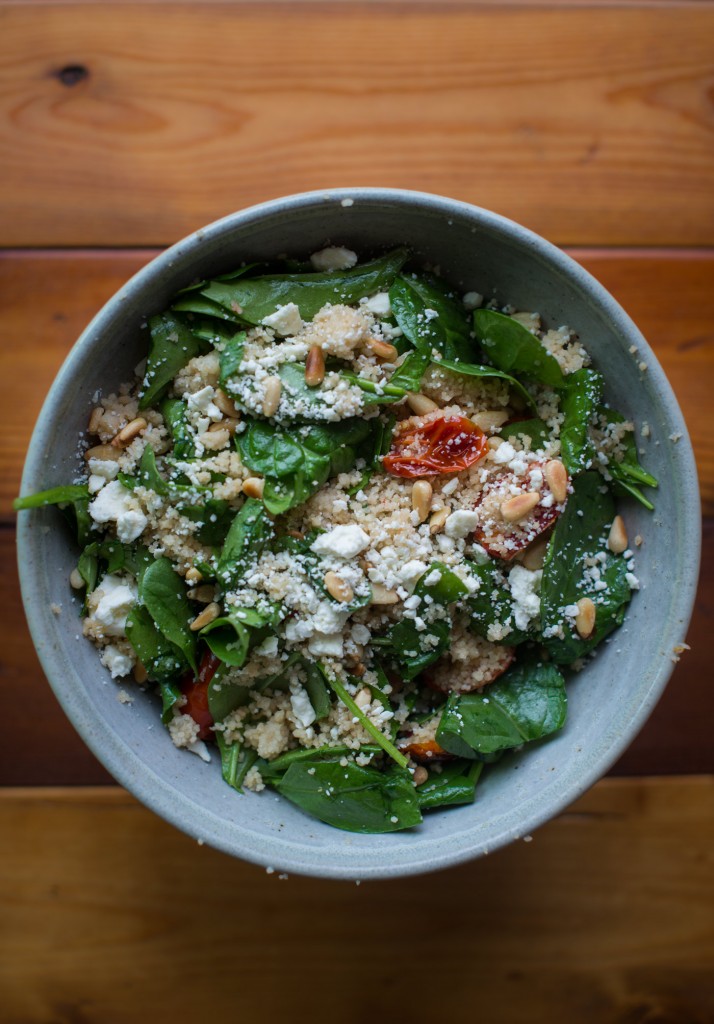 And then this simple couscous salad is packed full of good things: toasted pine nuts, feta cheese, roasted tomatoes, organic spinach….This simple spinach couscous salad was meant to serve at least four, but Ryan and I couldn't resist going back for seconds and then thirds.
So if you're finding your emotions running high this week, get into the kitchen and make this meal. Your heart and your stomach will thank you.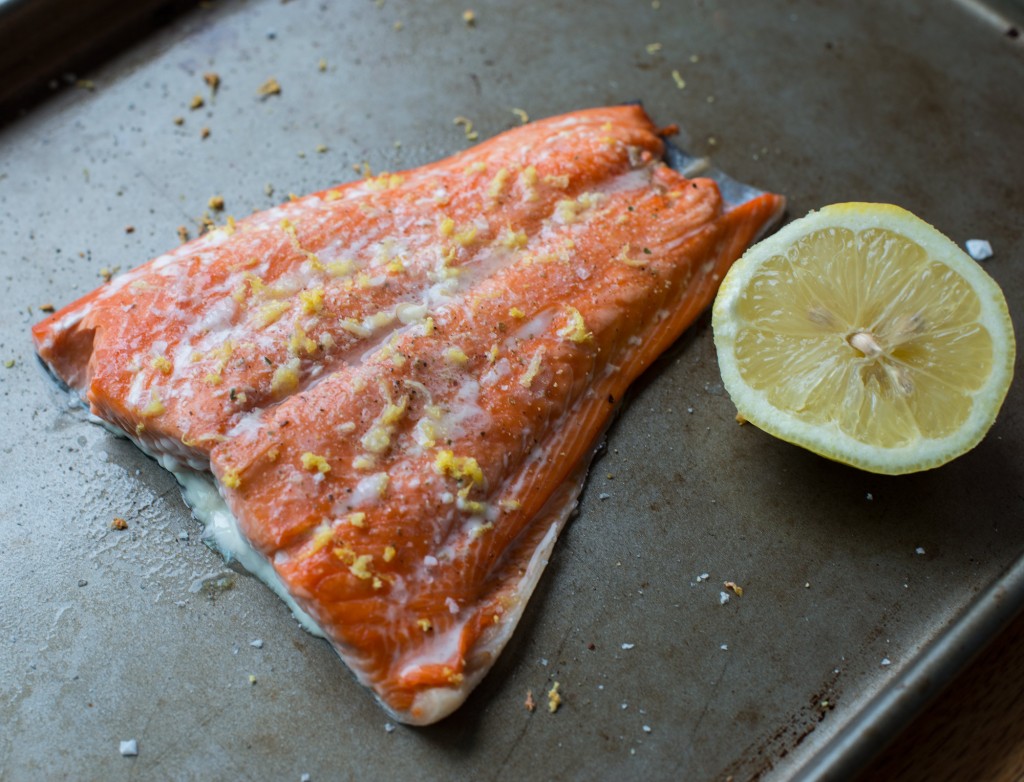 Slow Baked Salmon
12-ounce fillet of salmon, skin on (or 6 ounces per person)
Finely grated zest of a lemon (1 loosely packed tablespoon)
1 tablespoon of olive oil
A generous pinch of flaky sea salt
Place a pan 1/2 full of water (I use a 8″ round cake tin) in the oven on the lower rack and preheat to 250°F. Lightly grease a baking pan. Place the filet of salmon on baking pan, skin side down. Brush olive oil on top. Sprinkle with sea salt and lemon zest.
Bake for 25 – 30 minutes. Check for doneness at 20 minutes. Place a knife tip in the thickest part of the salmon and gently pry. If the salmon separates into flakes, it's done. If not, return it to the bake for another five minutes.
Spinach Couscous Salad
One pound organic spinach
Four cups prepared couscous (about 2 cups uncooked)
1/2 cup pine nuts, lightly toasted
1 pint cherry tomatoes tossed in about 1 tablespoon olive oil
1 8 ounce package feta cheese
1/4 cup high quality olive oil
2 tablespoons white wine vinegar
2 tablespoons Dijon mustard
1 tablespoon honey
Preheat oven to 400 degrees Fahrenheit. Spread tomatoes (tossed in olive oil) on a baking sheet. Roast until they just begin to burst, about 20 minutes.
In a large skillet, heat spinach until it starts to wilt. Remove from heat.
In a large bowl, gently toss together roasted tomatoes, wilted spinach, cooked couscous, toasted pine nuts, and feta cheese. In a small bowl, whisk together olive oil, white wine vinegar, Dijon mustard, and honey. Pour over salad, toss again, and serve at room temperature.