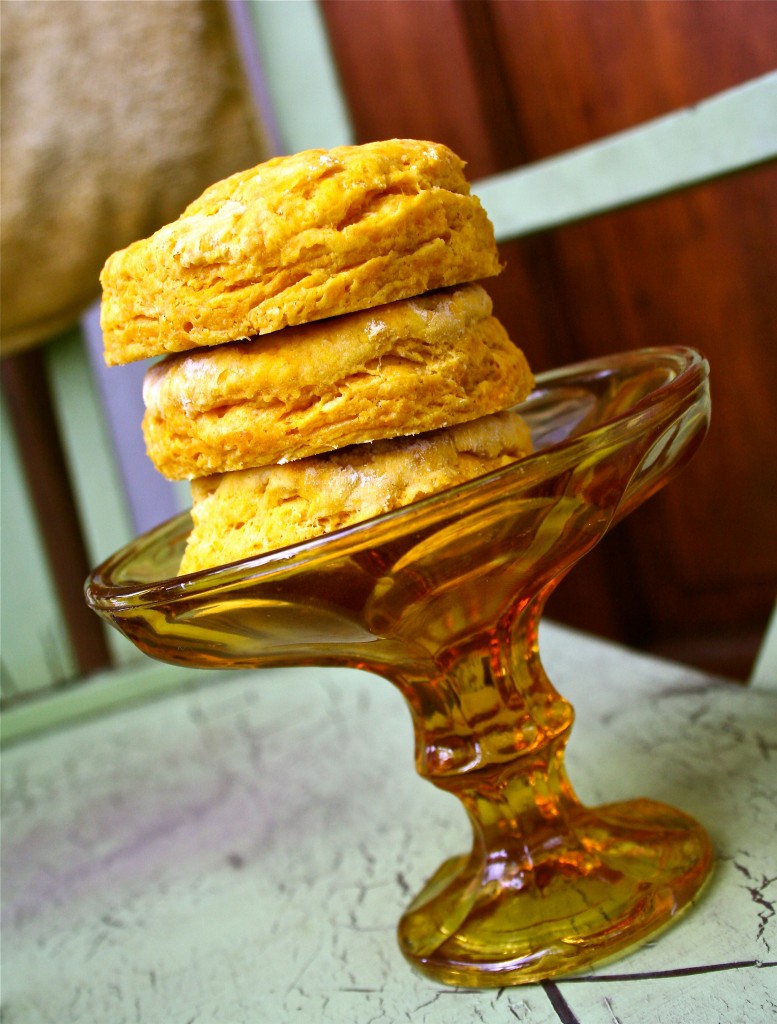 We had rain and wind this last weekend in September. Today marks the beginning of October, a month that brims with all the excitement of fall and the holidays without any of the compulsion to buy and stress. And, with the with the opportunity to dress up in costumes waiting at the finish line, October seems like the perfect month.
My parents kept many pictures of Noelle, Pam, Susanne, and I around our home. Pictures of us wearing matching dresses. Pictures of us skiing down mountains. Pictures of us in Italy or at the beach or in our backyard. But one of my favorite pictures rests near my mother's kitchen sink. Noelle and I stand staggered in our front yard, pine trees stretching high. I'm wearing a gold leotard with a white tulle skirt. Noelle wears a a cotton shaft with a few well-placed adornments that somehow scream "princess." We hold matching wicker baskets.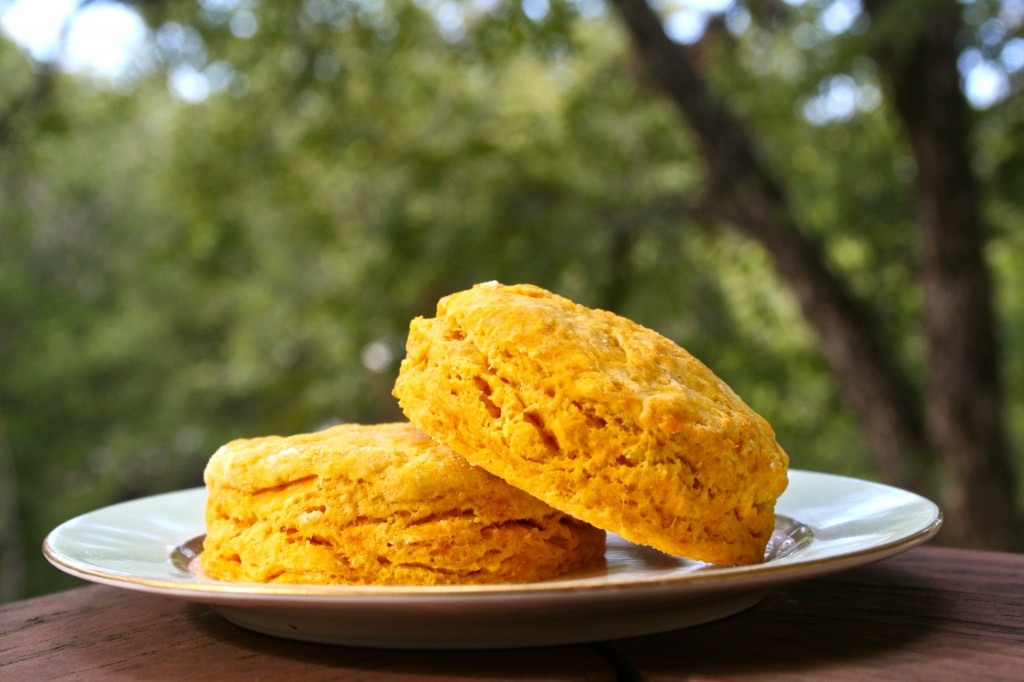 Easily, you can identify that we were about to embark on that quintessential childhood activity: trick or treating. But whenever I looked at that picture, I saw two girls in a dark forest, illuminating the night with their presence. And by presence I mean: strength and beauty. Why it is so easy to own that presence at the age of 6 and 2, but then so difficult to hold onto it as you grow into adults says much about our culture and society.
But thankfully, Noelle and I grew up with reminders (the picture) and those that reminded (my parents, older sisters, and friends). We've had our share of doubts, but I think we've both become women who hold onto that presence.
And what else do we do? We eat good food. Because we learned, along the way, that nourishing our bodies is one of the greatest gifts we can give to our souls.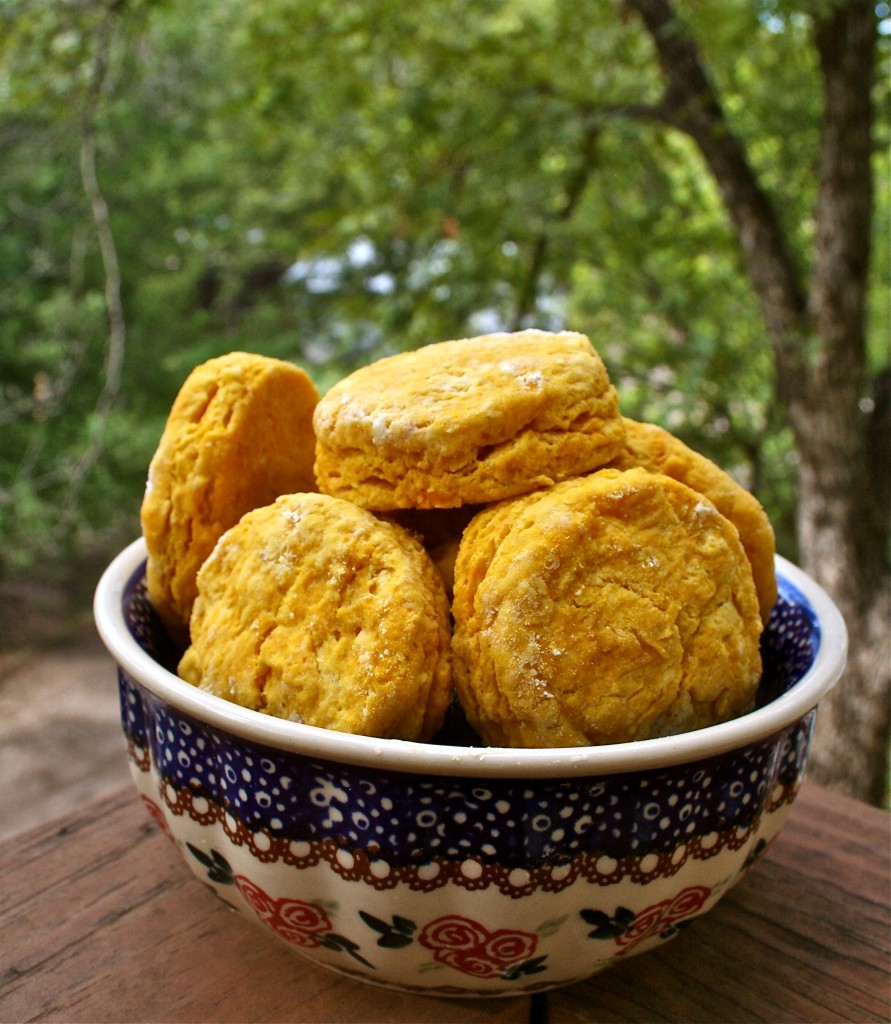 Pumpkin Biscuits
1 3/4 cups all-purpose flour, plus more for kneading and shaping
2 1/2 teaspoons baking powder
1 teaspoon salt
1/2 teaspoon baking soda
6 tablespoons unsalted butter, frozen, plus more to spread
3/4 cup pumpkin puree, chilled
1/3 cup buttermilk
2 tablespoons honey
1. Preheat oven to 400 degrees F with rack in the lower third of the oven.
2. In a large bowl, whisk together flour, baking powder, salt, and baking soda. Using a box grater, grate the frozen butter into the flour mixture. With a pastry blender or a metal fork, cut in butter until mixture resembles small peas.
3. In a liquid measuring bowl, whisk together pumpkin, buttermilk, and honey. Using a large wooden spoon or a rubber spatula, fold into flour mixture until combined (do not overmix).
4. Turn out dough onto a lightly floured surface. Shape dough into round and pat to an even 1-inch thickness. With a 2-inch biscuit cutter dipped in flour, cut out biscuits. Gather together scraps, and repeat (do not repeat more than once as this greatly effects the biscuit's height and flakiness).
Monet
Anecdotes and Apple Cores