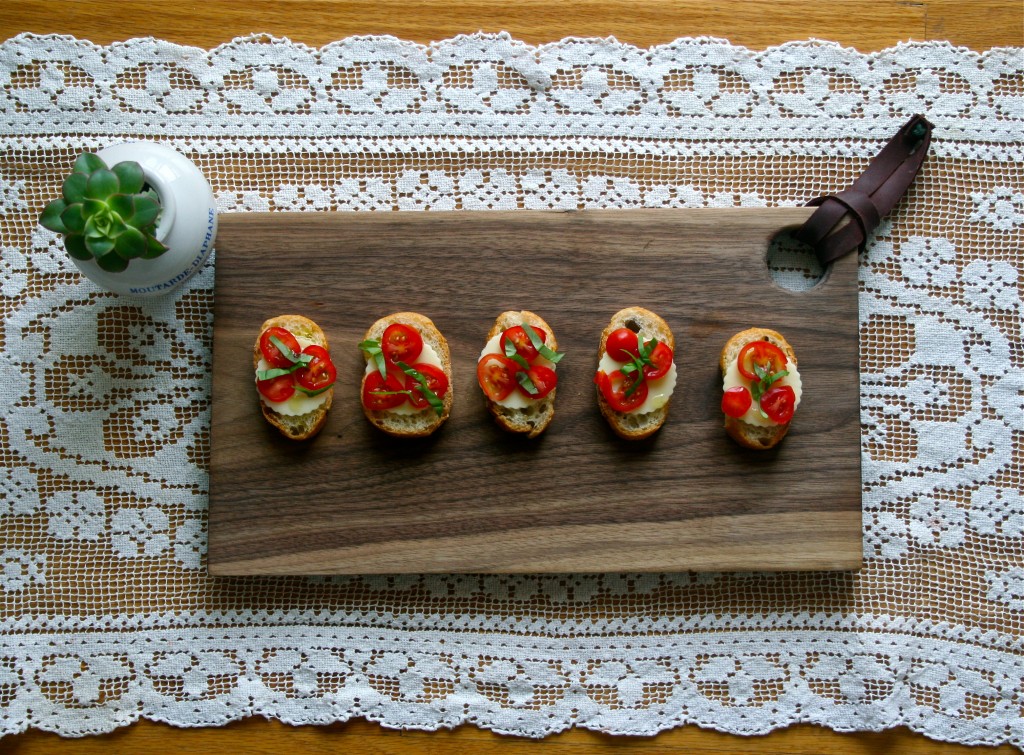 Ryan and I are already crossing items off our list. We had one of those lovely weekends. Leisurely breakfasts, friends from near and far, sweet family, succulents, long walks in the park. We even watched our 7-year-old nephew score two soccer goals at his tournament. But come Monday morning, and I'm TIRED. I don't know if we were too busy this weekend or if I'm just 36 weeks pregnant. I imagine it's a combination of both.
We had some friends and family over to our house on Saturday, and I made a few simple dishes to share with them. I'm finding, already, that simplicity is KEY. Ryan and I had talked about making soft pretzels for our party, but when I thought about boiling pots of water, parchment lined baking sheets, and the endless rolling of dough, I vetoed the idea. Instead, I made these simple yet delicious tomato basil tartines.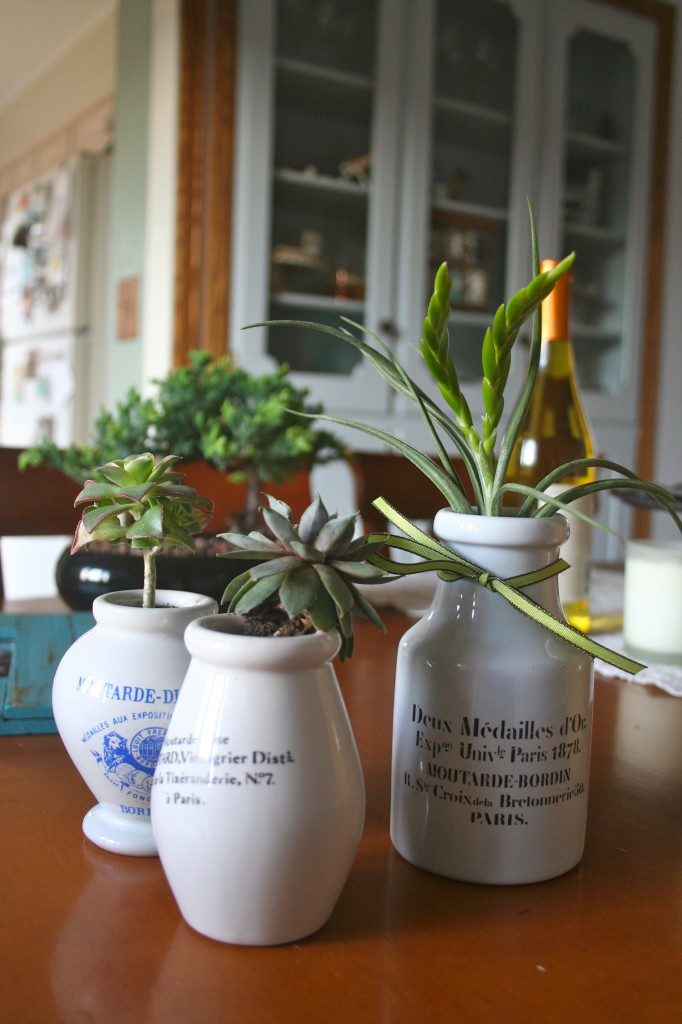 I bought a basil plant from Whole Foods a few weeks ago, and I've taken  pleasure in nurturing its growth. We have an immense yard that needs an immense amount of work, but my little basil plant is completely manageable. And so even though our backyard is half-dirt, half-weed, I still claim a green thumb. Growing basil is remarkable for many reasons, but I love that I can clip off a few leaves when needed (and not drive to the store to buy a 4 dollar packet of herbs).
And this baguette? Well, Ryan and I were lucky enough to move onto a cul-de-sac with wonderful neighbors. The owner of La Baguette (my very favorite bakery in Colorado Springs) lives just three doors down. The baguettes and the croissants that he sells each weekday and Saturday morning are as close to Paris as I can get right now. And he and his wife happen to be incredibly kind and gracious.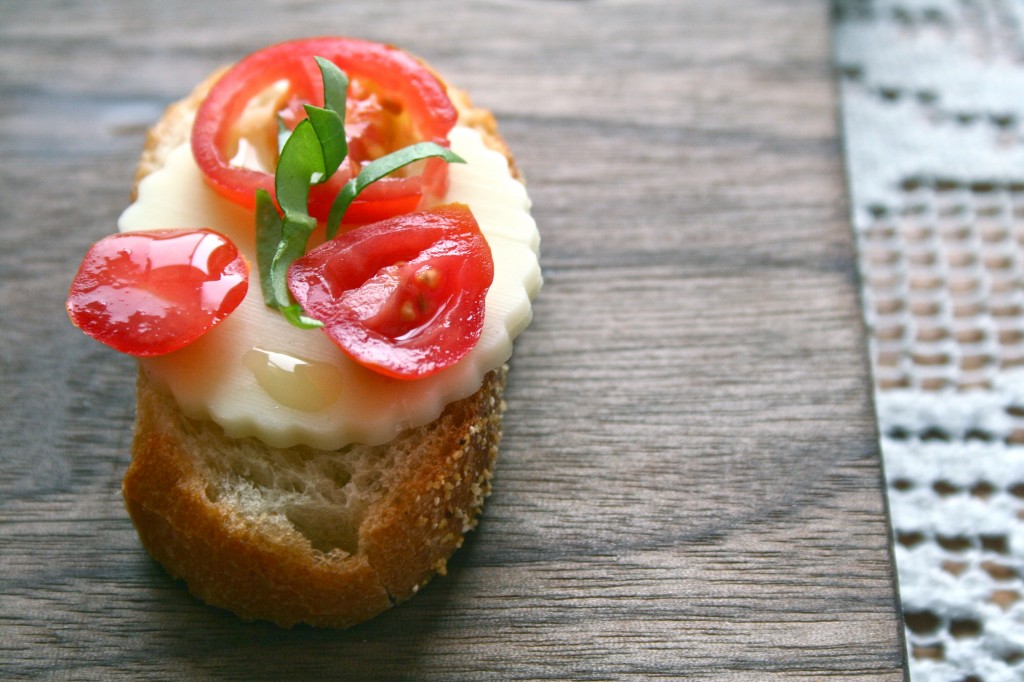 So buy yourself a basil plant, make good friends with a baker, and put together these simple tomato and basil tartines on a summer afternoon. They make perfect appetizers for a light lunch or dinner. I had a hard time keeping production up with my friends' appetites. Flavorful yet not overpowering, these tartines make the best of summer produce.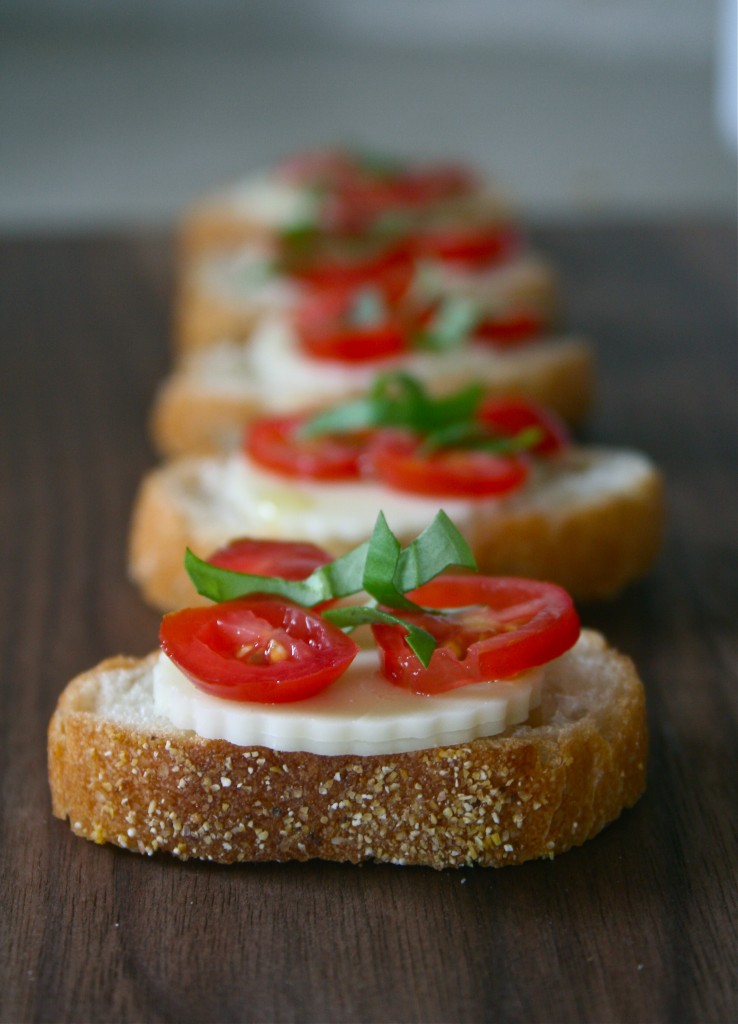 Tomato Basil Tartines
*Yields 24 tartines
1 baguette, sliced thin (I always ask my baker to do this for me…saves time and the mess)
2-4 tablespoons butter, softened
1 carton of grape tomatoes, sliced thin
8 thick slices of provolone cheese
Extra Virgin Olive Oil (I used a wonderful basil infused oil)
10-12 small basil leaves, chopped
Arrange sliced baguette pieces on a platter or serving plates. Spread softened butter over each piece of bread. Cut each piece of provolone into four smaller pieces. You can use a decorative round cookie cutter if desired. Place cheese on top of butter and bread. Arrange sliced tomatoes and chopped basil on each tartine. Drizzle lightly with olive oil and serve immediately.
Monet
Anecdotes and Apple Cores