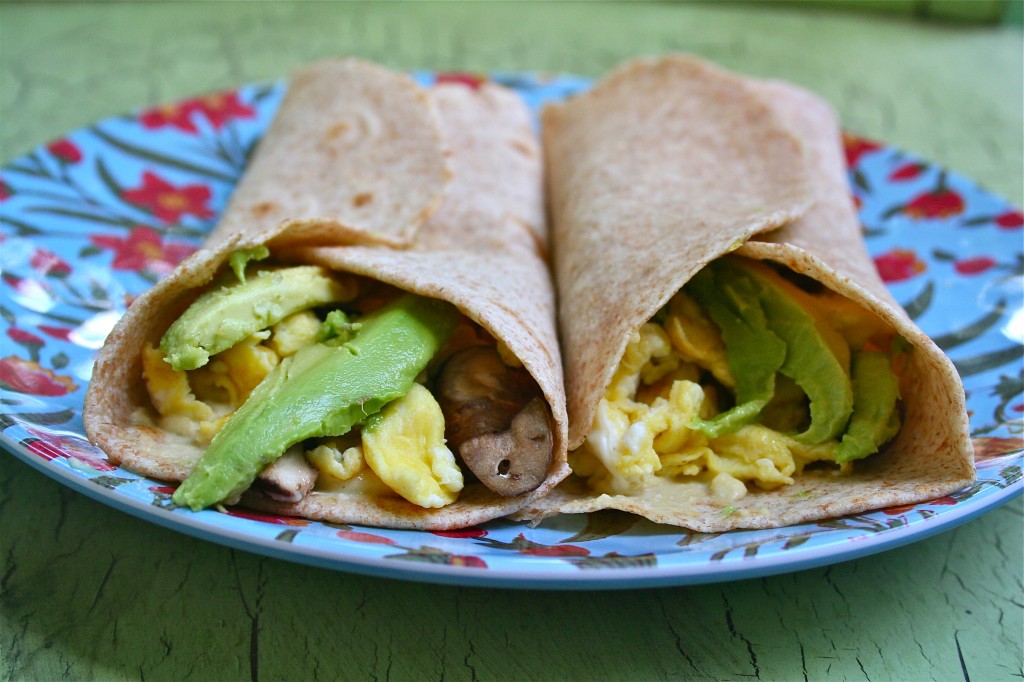 Ryan and I have  lived in Austin for almost TWO years now. Hard to believe, especially when I think of the next few months here. 100 degree weather will never feel normal. No matter how long I stay in Texas.
But what does feel normal after living in Austin for two years? Eating flour tortillas for breakfast, lunch, and dinner.
The breakfast taco reigns supreme in Austin, and despite my love for a bagel and cream cheese, I get it now. Taking a butter knife to an avocado before the sun puts on its heavy boots is how mornings were meant to be, I'm now convinced.
Not surprisingly, I'm picky about my breakfast tacos. I want organic eggs. Goat cheese. Wild mushrooms. And really good flour tortillas.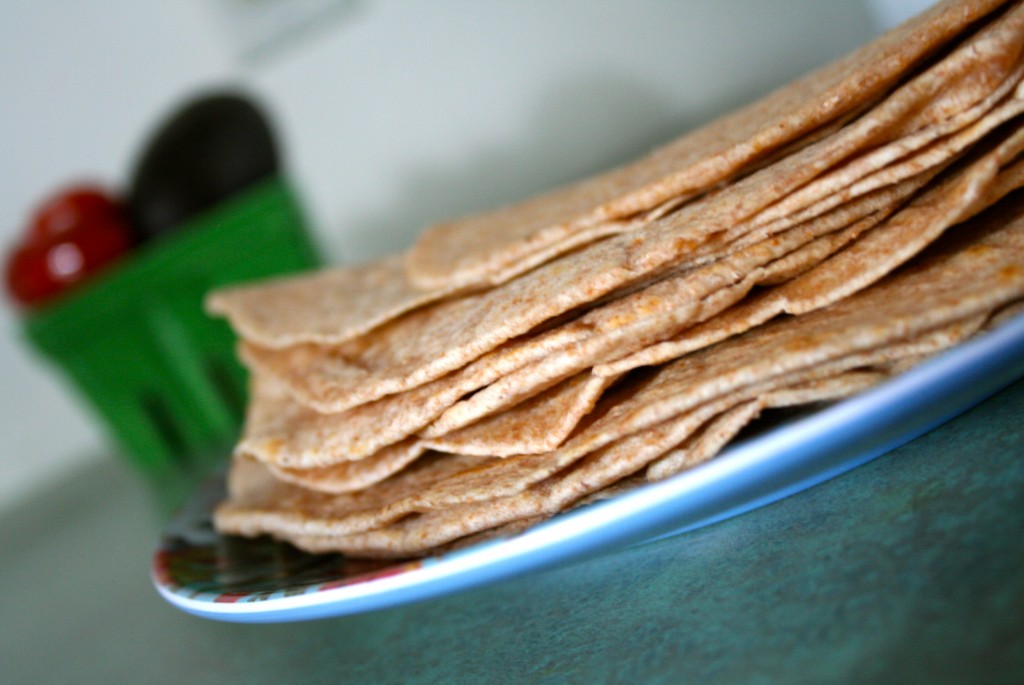 If you talk to any Mexican grandmother, you'll learn a thing or two about flour tortillas. There is nothing like walking into a kitchen where a griddle is hot and ready for flattened discs of dough. Even better is when a tortilla master is willing to share her secrets.
One of the first things you'll see is a container of lard. Lard is the fat of choice for tortilla making. Most Mexican grandmothers don't even think about tortillas without it. And I understand why. I've had tortillas made with lard and they are truly delicious. But my pleasure always diminishes when I think about what I'm ingesting. And as a baker of cakes, I buy butter (not lard) in pounds. Because lard never makes its way into any of my cake creations, I don't have that ubiquitous container in my own kitchen.
But the good news is this: butter makes everything better. And this applies to toast, frosting, pie crust, and now flour tortillas.
This wheat flour tortilla recipe calls for a few pats of unsalted butter, flour, salt, and baking powder. Within one hour (yes, only one hour!) you can have a gorgeous stack of tortillas, ready for breakfast or dinner.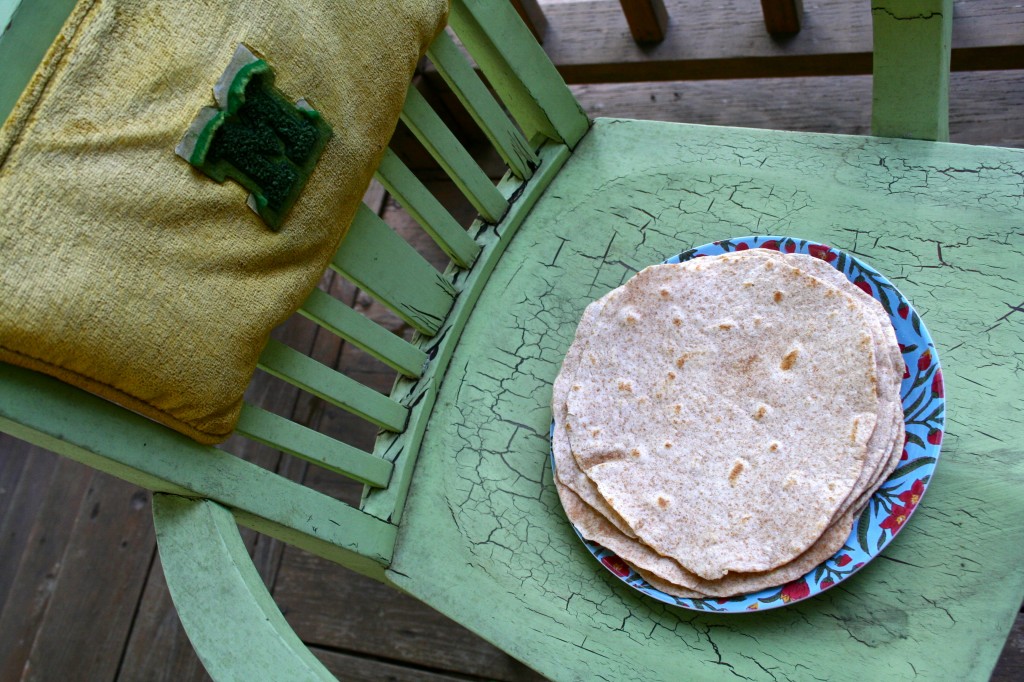 One important key is to let your tortilla dough sit for at least 30 minutes before rolling it out on the counter. This allows the gluten to develop, which means you can roll your tortilla dough into paper-thin discs that bubble beautifully when they hit the hot skillet.
Another important key is practice. You're going to make some oddly shaped tortillas before you get it right. And that's perfectly fine. Because good tortillas come in all shapes and sizes, right?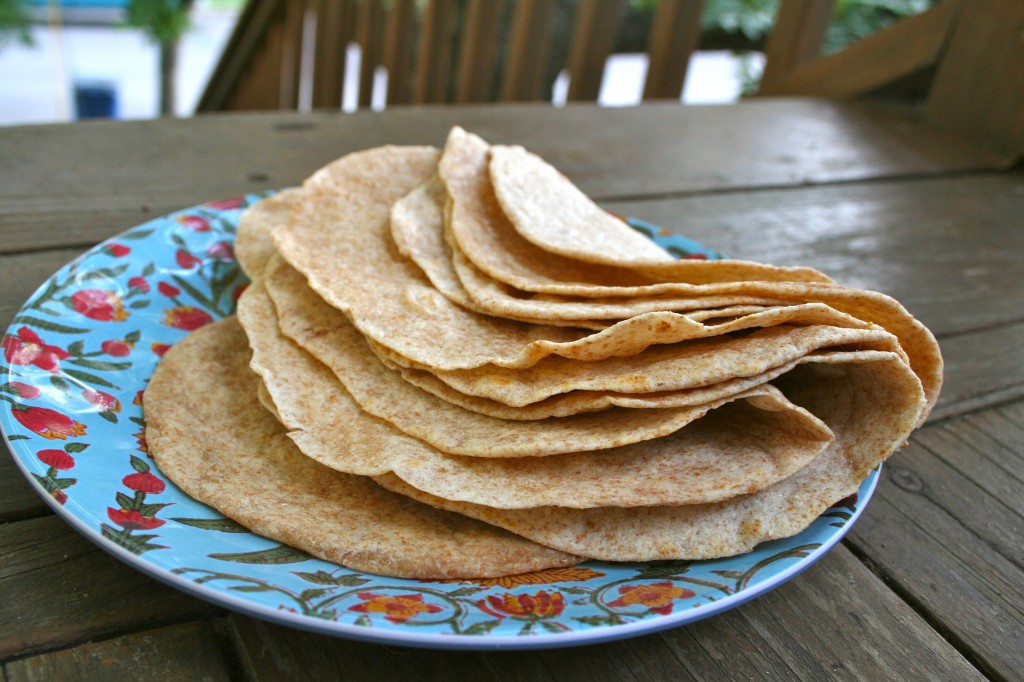 Wheat Flour Tortillas
3/4 cup all-purpose flour
3/4 cup whole wheat flour
1/4 teaspoon baking powder
1/2 teaspoon salt
3 tablespoons unsalted butter
1/2 cup HOT water
1. In a medium bowl, mix together flours, baking powder, and salt with a large spoon or whisk. Cut butter into 1-inch pieces. Using your hands, mix butter into flour. This is a very similar to making pie dough. The dough should be crumbly.
2. Once butter is incorporated into dough, add hot water and mix until dough starts to come together. Knead the dough for 3 minutes. Cover bowl with plastic wrap or a damp towel and allow to rest for 30 minutes.
3. After resting, divide dough into 10 pieces (about 1.5 ounces each). Press each piece of dough into a round disc and roll out with a rolling pin. The dough should be very thin. Cook dough on a heavy skillet, medium to high heat. Each side will need to cook for 1-2 minutes. The tortilla will begin to form bubbles when ready to flip.
4. Remove tortillas to a plate to cool and cover with a paper towel if not ready for immediate eating.
Monet
Anecdotes and Apple Cores