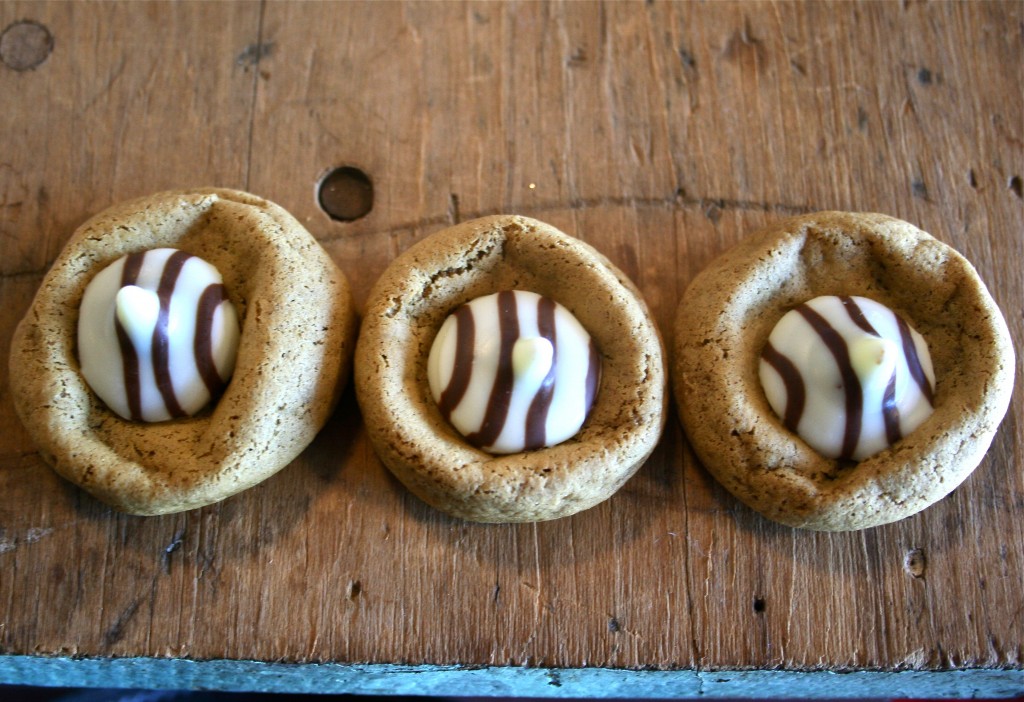 Christmas cookies. Even those of us who don't particularly like the lights, the inflatable santas, and the endless rounds of carols, can't resist a homemade platter of Christmas cookies. Growing up, my mom and grandmother would spoil us with dozens of varieties. We all had our favorites, and we'd be sure to stand in the kitchen when our batch went into the oven.
My favorite? Those peanut butter thumbprint cookies. Ubiquitous but delicious. I loved the saltiness of the peanut butter, the crunchiness of the cookie, and the smooth way the Hershey kiss would melt on my tongue.
When I had the opportunity to peruse McCormick's impressive collection of cookie recipes, I knew I had to try an updated version of this personal favorite. Instead of the classic peanut butter, I used McCormick's ground nutmeg, ginger, and cinnamon to make a spicy gingerbread cookie. And much to my delight, I bought a bag of those white and milk chocolate swirled kisses (my personal favorite).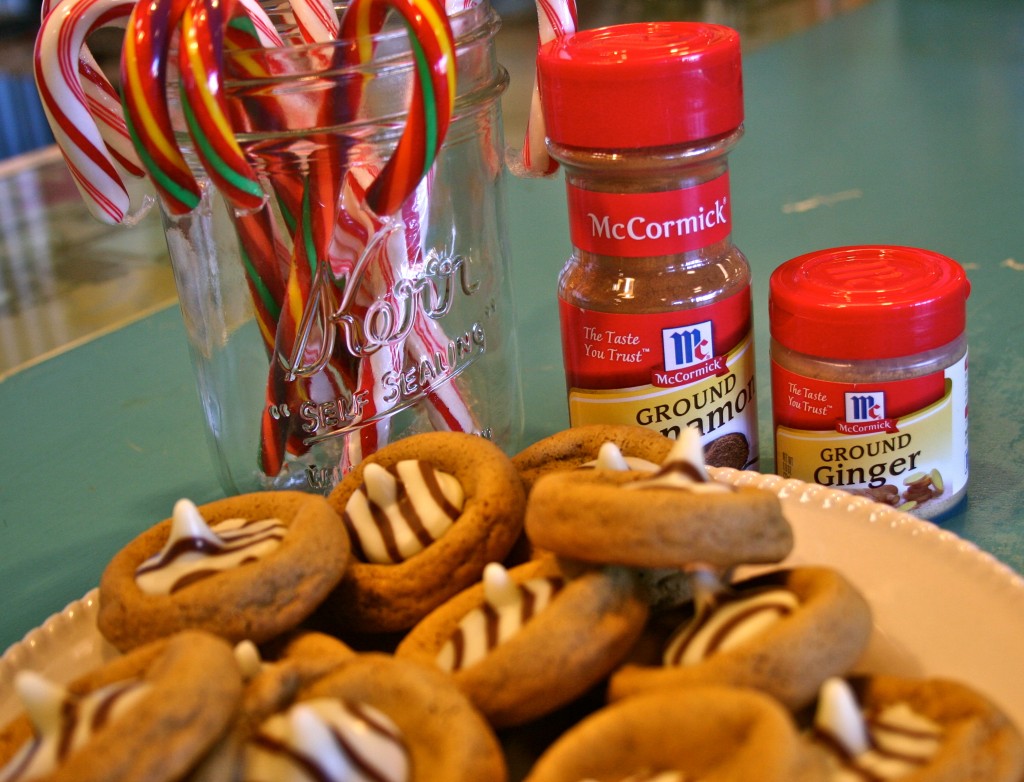 The cookies turned out beautifully (although my niece and nephews were a bit eager to place the kisses on the cookies…they were too warm still and melted just slightly). The spiciness of the gingerbread compliments the creaminess of the chocolate, and I happily helped myself to not one, but three cookies right after we pulled from the oven.
Thank goodness my morning sickness is gone!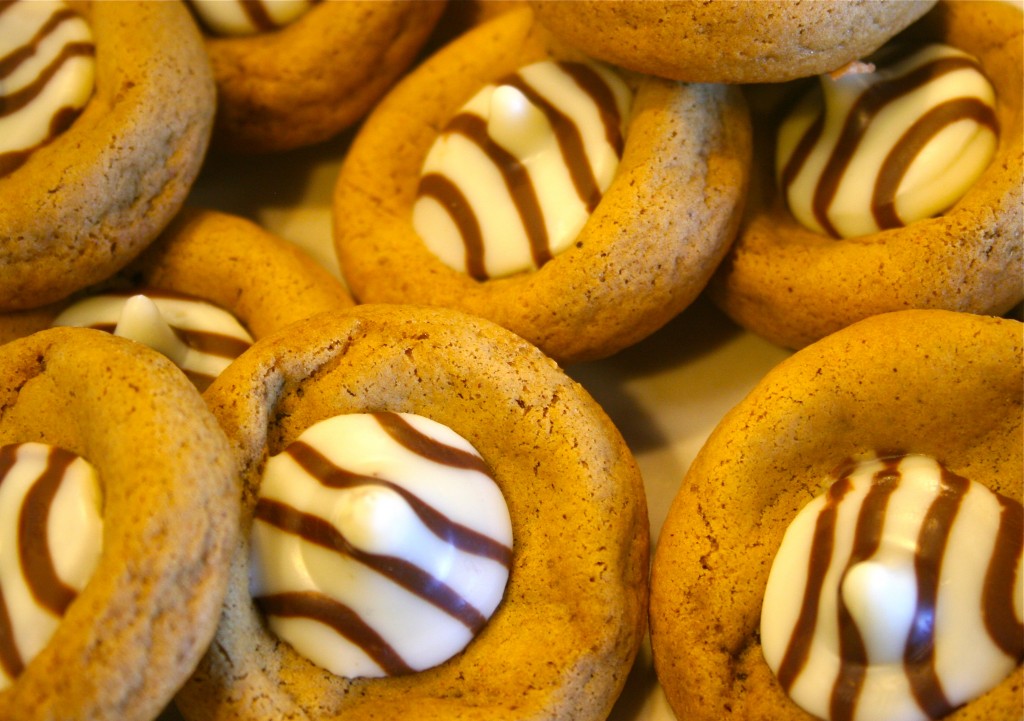 McCormick spices have been part of our Christmas cookie tradition for as long as I can remember (and as long as my mom can remember too!) With the holiday weekend approaching, I encourage you to peruse their great recipes and give a few new ones a try. No one will protest if there are an extra dozen or two cookies on the cookie tray.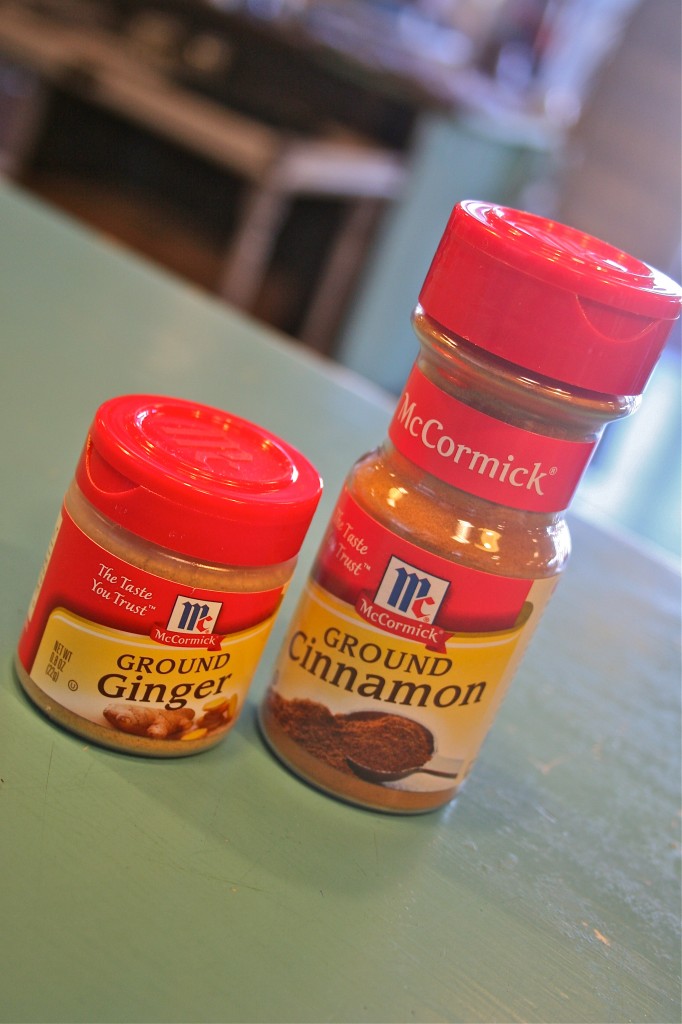 White Chocolate Kissed Gingerbread
*From McCormick®
3 cups flour
2 teaspoons McCormick® Ginger, Ground
1 teaspoon McCormick® Cinnamon, Ground
1 teaspoon baking soda
1/4 teaspoon McCormick® Nutmeg, Ground
1/4 teaspoon salt
3/4 cup (1 1/2 sticks) butter, softened
3/4 cup firmly packed brown sugar
1/2 cup molasses
1 egg
1 teaspoon McCormick® Pure Vanilla Extract
1/4 cup granulated sugar
60 white and milk chocolate swirled kiss-shaped candies
1. Mix flour, ginger, cinnamon, baking soda, nutmeg and salt in large bowl. Set aside. Beat butter and brown sugar in large bowl with electric mixer on medium speed until light and fluffy. Add molasses, egg and vanilla; mix well. Gradually beat in flour mixture on low speed until well mixed. Press dough into a thick flat disk. Wrap in plastic wrap. Refrigerate 4 hours or overnight.
2. Preheat oven to 350°F. Shape dough into 1-inch balls. Roll in granulated sugar to coat. Place 2 inches apart on ungreased baking sheets.
3. Bake 8 to 10 minutes or until edges of cookies just begin to brown. Immediately press a chocolate candy into center of each cookie. Remove to wire racks; cool completely. Store cookies in airtight container up to 5 days.