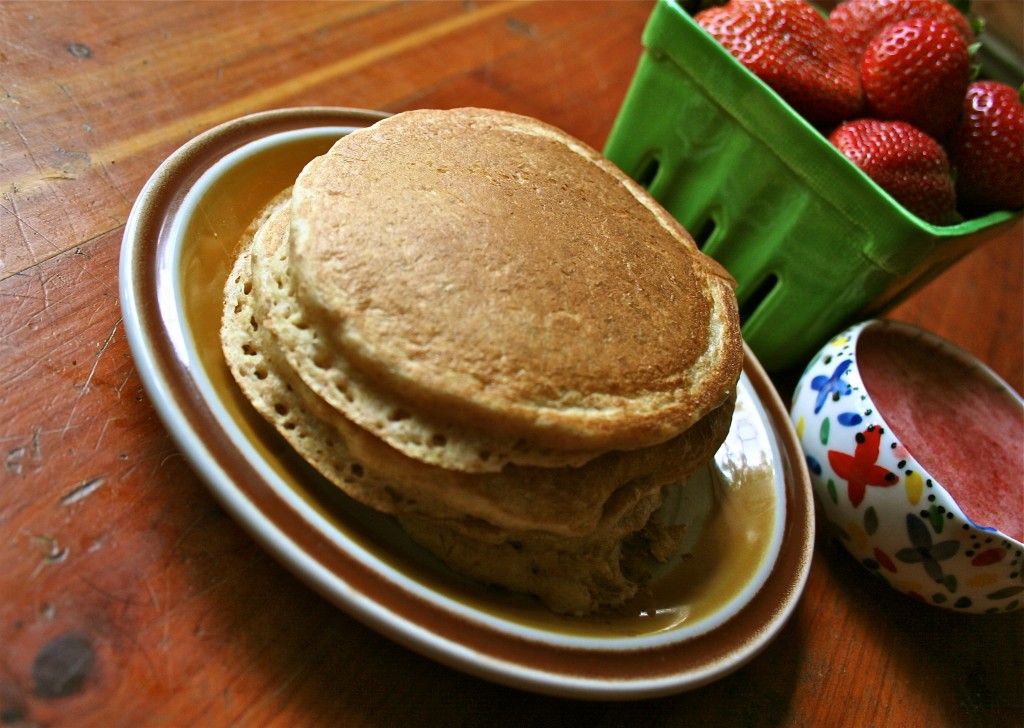 It took me a week or two, but I'm finally sharing a "healthy" recipe with you. These whole grain pancakes with strawberry agave syrup are perfect for breakfast, lunch, or dinner. In fact, these pancakes are so perfect I might make another batch tomorrow.
Most mornings, I scramble eggs and toast a piece of whole grain bread for breakfast. But yesterday morning, Ryan and I overslept and had no time for a leisurely morning meal. We were in Colorado for the past few days, and sadly our trip came to a close yesterday at 6:30 MST. After realizing we'd overslept, Ryan and I hastily packed our bags and made for the airport. After bumbling through security and finding our too-small seats on the plane, we ate cold bagels as we talked to a precocious 13-year-old boy.
As much as I enjoyed my cold bagel with peanut butter (NOT), I missed my daily plate of scrambled eggs. So on the way home from the airport, Ryan and I picked up a carton of organic eggs from our local co-op. When I asked Ryan if he wanted breakfast for dinner, I already knew the answer. Is there anything more comforting than putting on your PJs a few hours early and enjoying breakfast at 7:00 at night?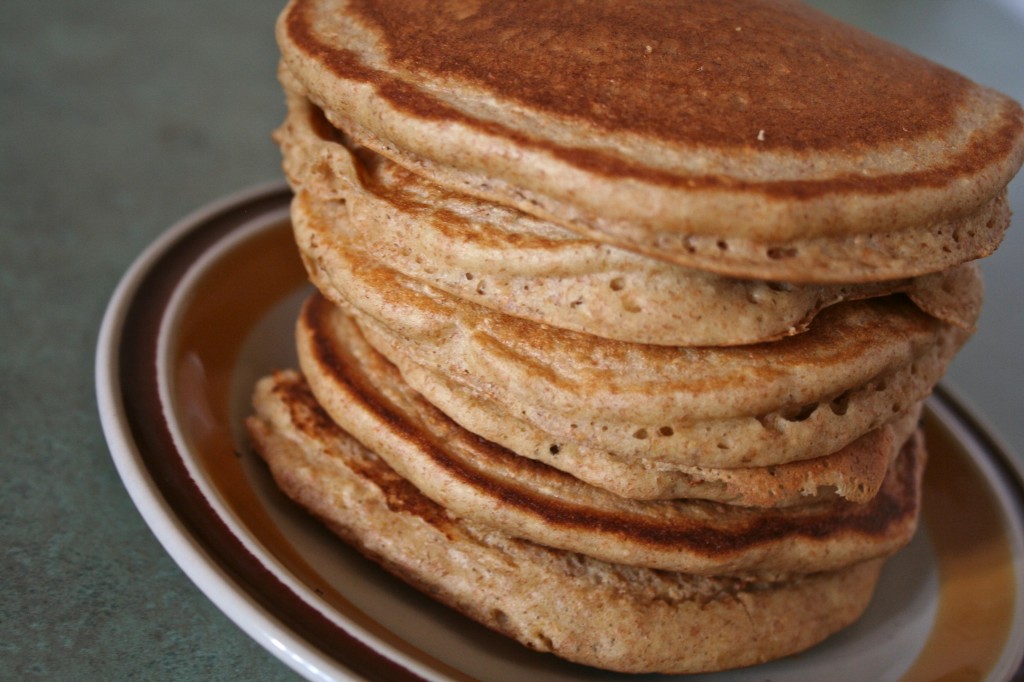 A few scrambled eggs would happen without question, but I also thought a stack of whole grain pancakes would make our breakfast-dinner even better. So I happily pulled out a skillet as the sun's summer rays began to hide behind evening clouds. Within half an hour, I had whipped up a batch of light and fluffy pancakes along with a strawberry agave syrup to drizzle on top of our eggs.
Ryan and I enjoyed our pancakes and eggs with the sound of rain (yes, rain!) in the background. After living through one of the worst droughts in Texas history last summer, it is wonderful when the rain does fall.
So make these pancakes. Old-fashioned oats add a sweet nuttiness to these pancakes. I often refer to these as my "blender" pancakes because instead of a kitchen aid-mixer, a blender does most of the work. Old-fashioned oats are processed until they are almost as fine as course-grain flour. These pancakes are light and fluffy while also wholesome and filling. And when you drizzle a strawberry agave syrup on top? Well, then these become true winners.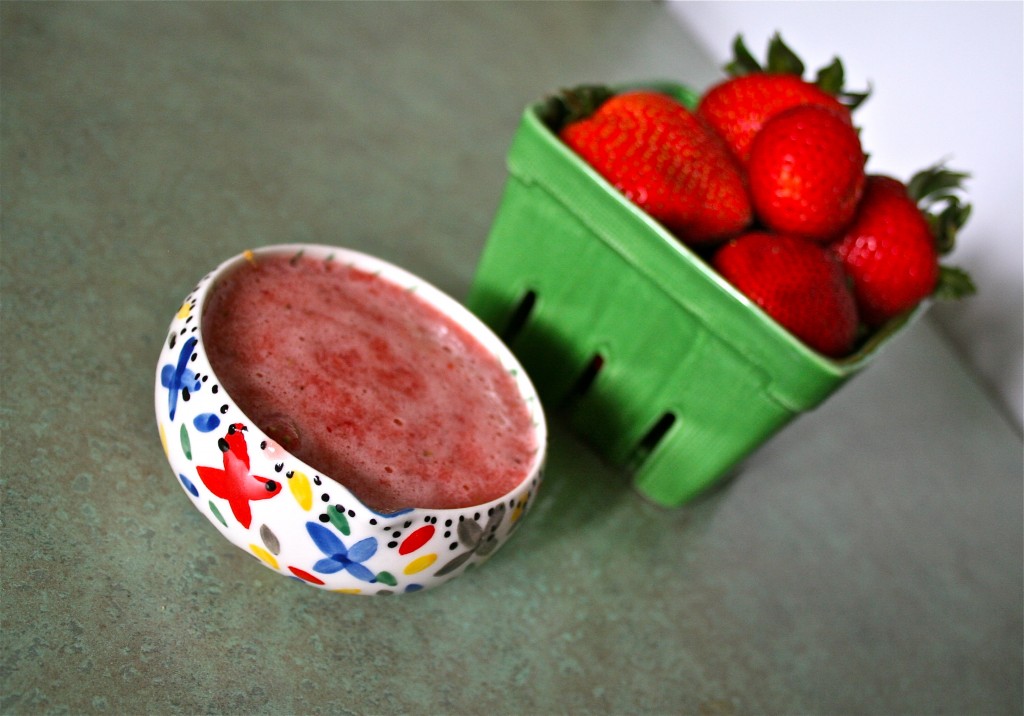 So while you're at it, blend together this syrup. Agave nectar is a great alternative sweetener and is made even better with the addition of summer's finest fruit. Not only do the strawberries turn the agave nectar a lovely pink, but they also reduce the amount of calories in a 2 TBSP serving from 120 to 40. A win all around.
And to all my Colorado friends and family: I'm sorry I wasn't able to stay longer and to spend time with you all. From touch down to take off, I didn't stop! But don't worry, rumor has it my big sister is having a baby soon, and we'll be coming back in no time at all.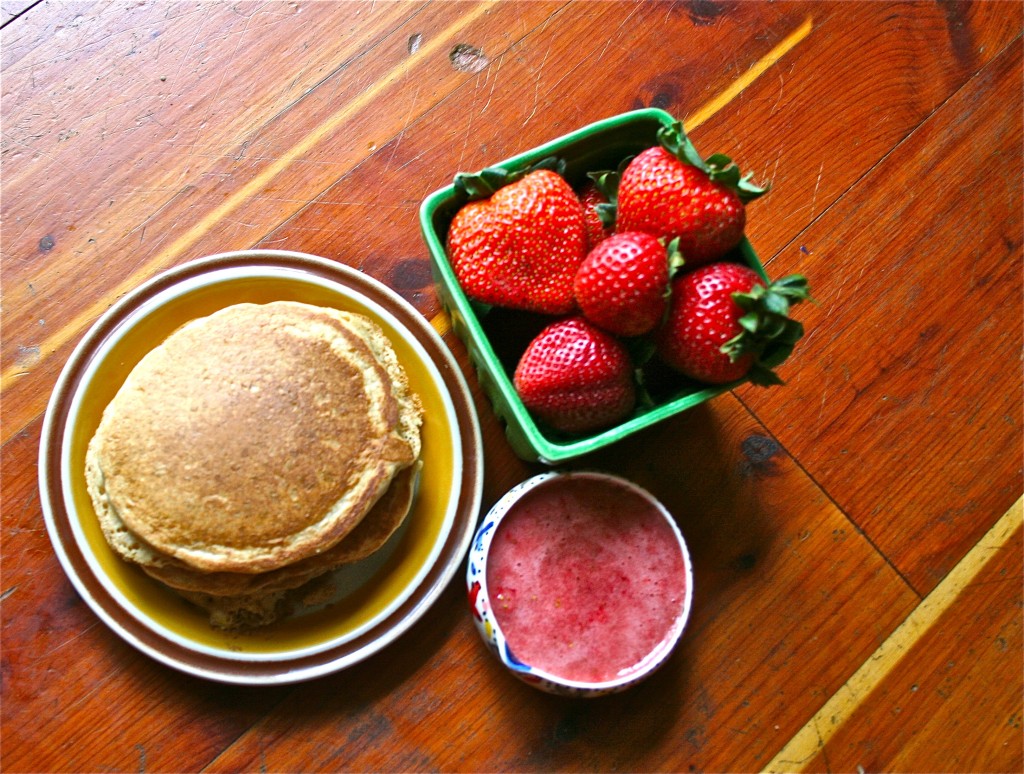 Strawberry Agave Syrup
4 TBSP agave nectar
8 strawberries, washed and hulled
1. In a blender, combine strawberries and agave nectar. Blend until liquefied. Serve immediately or store in an air-tight refrigerator for up to 3 days.
Whole Grain Pancakes
1 cup old-fashioned oats
1 cup whole wheat flour
1 TBSP baking powder
1 tsp baking soda
1/2 tsp salt
2 eggs
1 cup vanilla yogurt
1 cup almond or soy milk (regular milk will work too)
2 TBSP canola oil
1. In a blender or food processor, blend old-fashioned oats until finely course. Add in whole wheat flour, baking powder, baking soda, and salt. Process until combined.
2. In a separate bowl, whisk eggs, vanilla yogurt, oil, and almond milk. Pour into blender or food processor and pulse until thoroughly combined.
3. Allow mixture to sit (in blender) for at least 20 minutes.
4. Heat a skilled to medium-high heat and coat with oil or butter. Using a 1/4 measuring cup, pour pancake batter into preheated pan. Cook until a slight edge begins to form around the perimeter of the cake and the batter bubbles in the  middle. Flip carefully and allow to cook for another minute. Remove to a plate and serve with strawberry agave syrup.
Monet
Anecdotes and Apple Cores