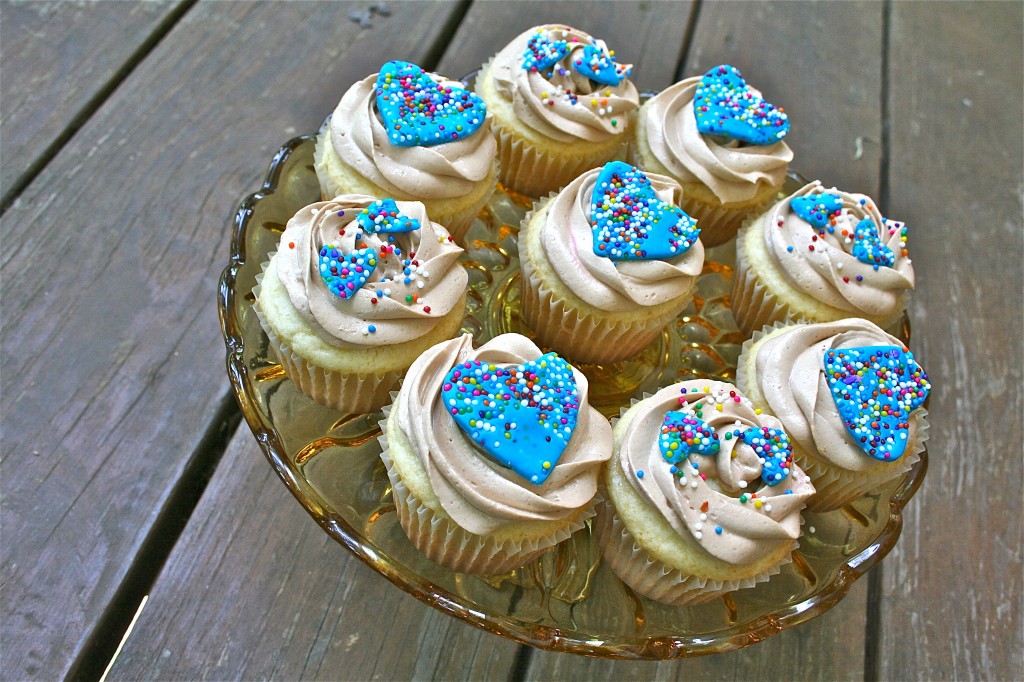 When I relaunched my site, I had every intention to stagger my recipes. One cake-related post followed by a "healthier" concoction. But lately I've found my afternoons occupied by cake orders. Cake Stand is growing and leading me into the kitchen more than I had anticipated (which is a huge and exciting blessing). While I do plan on making a batch of agave-sweetened banana muffins this afternoon, I thought these cupcakes were too pretty not to share. I brought a dozen over to a party yesterday afternoon, and smartly kept two at home for Ryan and me to enjoy. Many people wonder how we stay so slim with such an array of sweets on our counters. The answer is that we give most of these cakes away now (but that doesn't mean we don't ever enjoy a cupcake or two). A healthy diet revolves around moderation.
But before I go any further, I must fully disclose that I have a serious case of baby lust. Many of my friends are embarking on the parenthood journey, and with my older sister due in August, I'm itching for a little one of our own.  I don't know exactly when this will happen, but it's on the horizon. I'm seeing a wonderful acupuncturist, eating a lot of avocados and bowls of ice cream, and tabulating lists of boys and girls names.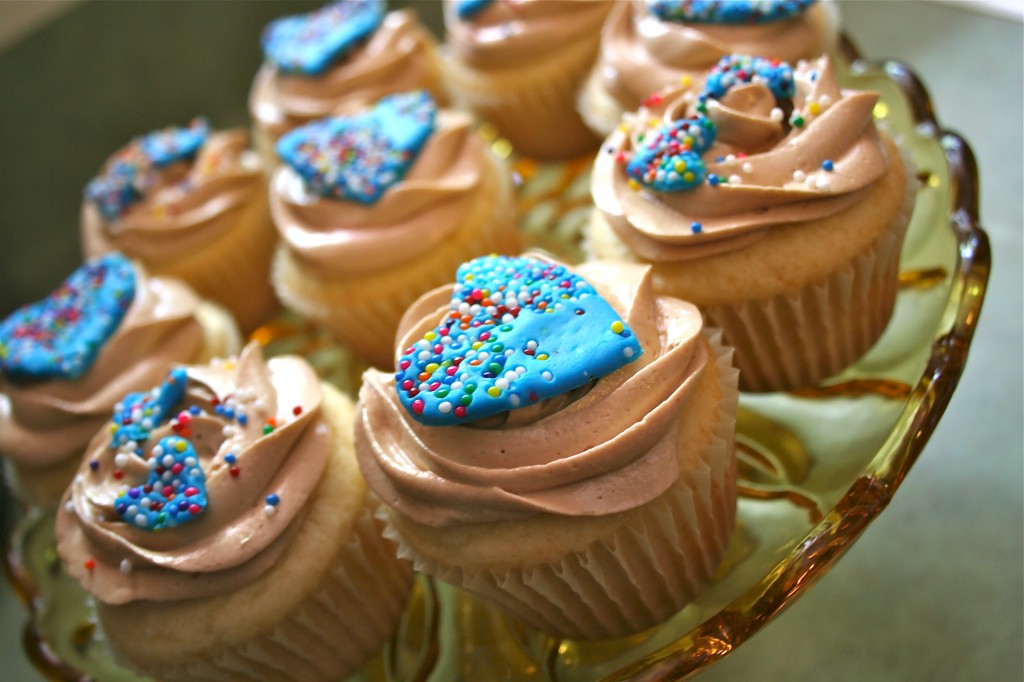 Because I know so many babies coming into the world and hope to have my own in the near future, I was thrilled when I had the opportunity to visit with Addie Barnett of Diaper Circus. After having her own newborn, Addie realized all the things she wanted in a cloth diaper and set out to make her own. I brought these lovely cupcakes to a Diaper Circus party, and the colorful sprinkles perfectly match the bright and beautiful prints of Addie's handmade cloth diapers. If you have a little one, or know someone who does, I suggest you visit her site and buy, buy, buy! After sending a few pictures to my sister, Susanne, she sent me back to Addie with an order in hand.
And once you've explored her site, I suggest you make a batch of cupcakes with this most thick and luscious chocolate buttercream. While most chocolate cake recipes (yes, even my last chocolate and caramel cake) call for a simple powdered sugar frosting, I make all my wedding cakes with a more traditional buttercream. Egg yolks are used instead of egg whites, which makes this chocolate buttercream rich and creamy, unlike anything you can find at most bakeries or grocery stores. Absent also is the powdered sugar, which means that this chocolate buttercream doesn't scream sugar. A good thing, especially when you have little ones who might want a bite or two.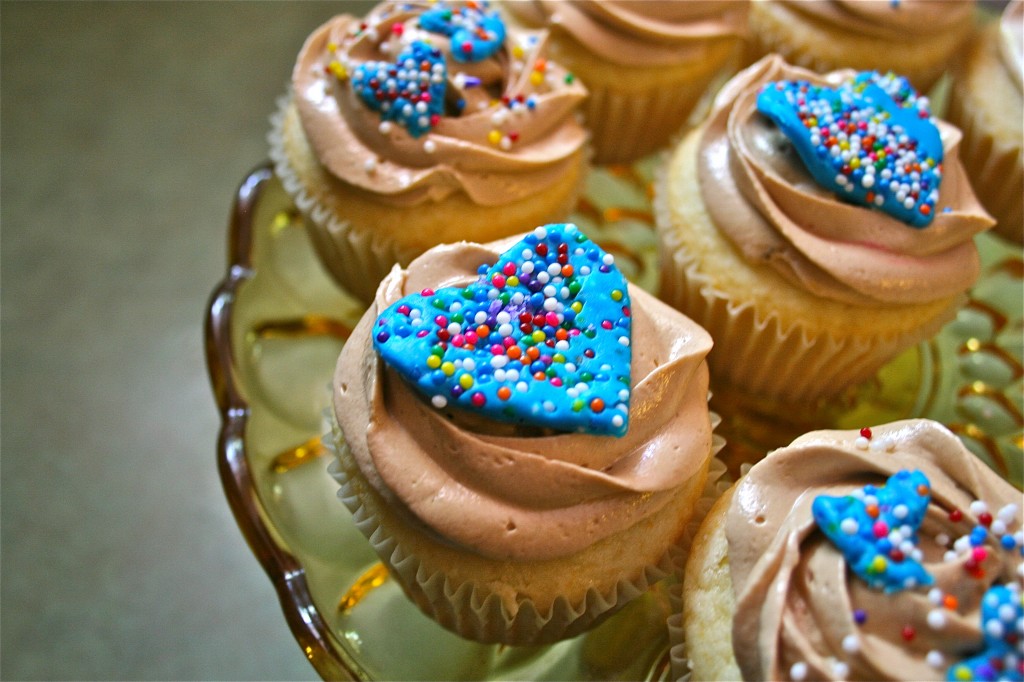 Chocolate Buttercream
6 egg yolks
1/2 cup corn syrup (this is NOT high-fructose, so don't be alarmed)
3/4 cup sugar
4 sticks butter
2 tsp vanilla
1/4 cup cocoa powder
1. Whip the egg yolks in a large bowl with an electric mixer of medium-high speed until slightly thickened and pale yellow, 4 to 6 minutes.
2. Meanwhile (and really, this has to be done concurrently for the recipe to work), bring the sugar and the corn syrup to a boil in a small saucepan over medium heat, stirring occasionally.
3. Then, while the sugar mixture is still hot, turn the mixer to low and slowly pour the the warm sugar syrup into the whipped egg yolks without hitting the sides of the bowl or the beaters (this is the hardest part…don't worry if it isn't perfect). Increase the mixer to high and whip the mixture until light and fluffy and the bowl is no longer warm to the touch (8-10 minutes).
4. Reduce the mixer to medium-low and add the cocoa powder, vanilla and salt. Gradually add the butter, one piece at a time, until completely incorporated. Increase the mixer to medium-high and whip until the buttercream is smooth and silky, about two minutes. Use immediately or store. The buttercream can be refrigerated in an airtight container for 3 days. Let the buttercream stand at room temperature for 2 hours before rewhipping.
Monet
Anecdotes and Apple Cores