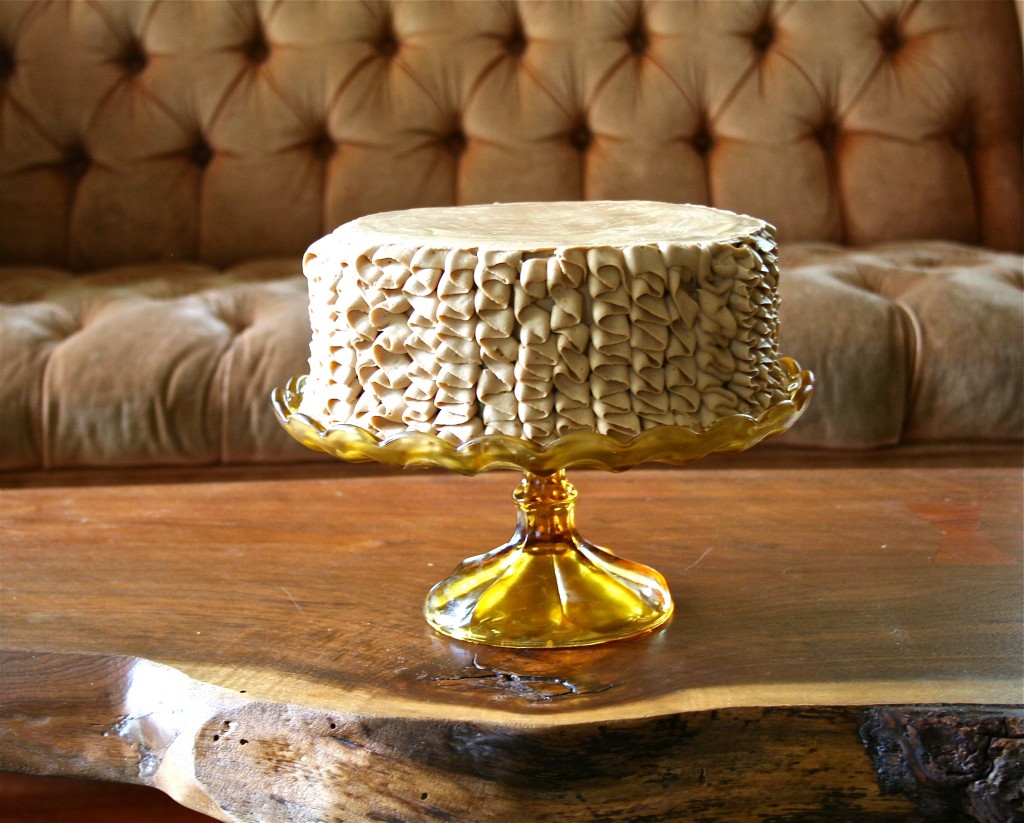 Can you ever go wrong with chocolate and caramel? Ever since middle school, where Fridays meant a slice of pizza at lunch and a pack of rolos to get me through Algebra, I've found the combination of chocolate and caramel irresistible. As an adult, I don't buy or eat much candy, but I do satisfy my chocolate and caramel cravings by baking the occasional decadent cake for Ryan and me to share.
This cake came about after I made a HUGE jar of homemade caramel last Wednesday. Here in Austin,we've almost reached our candy-making limit. With highs in the 90s, it is almost too hot to stand over a pot of boiling sugar and butter. My advice for my southern readers: make your caramel first thing in the morning. Not only will you be cooler, you can drizzle a little caramel on your pancakes too.
I spread a thin layer of my caramel on a few polenta and honey cookies, but I still had over half a jar left . And is there really a better way to use caramel then as a filling for a  cake? I think not.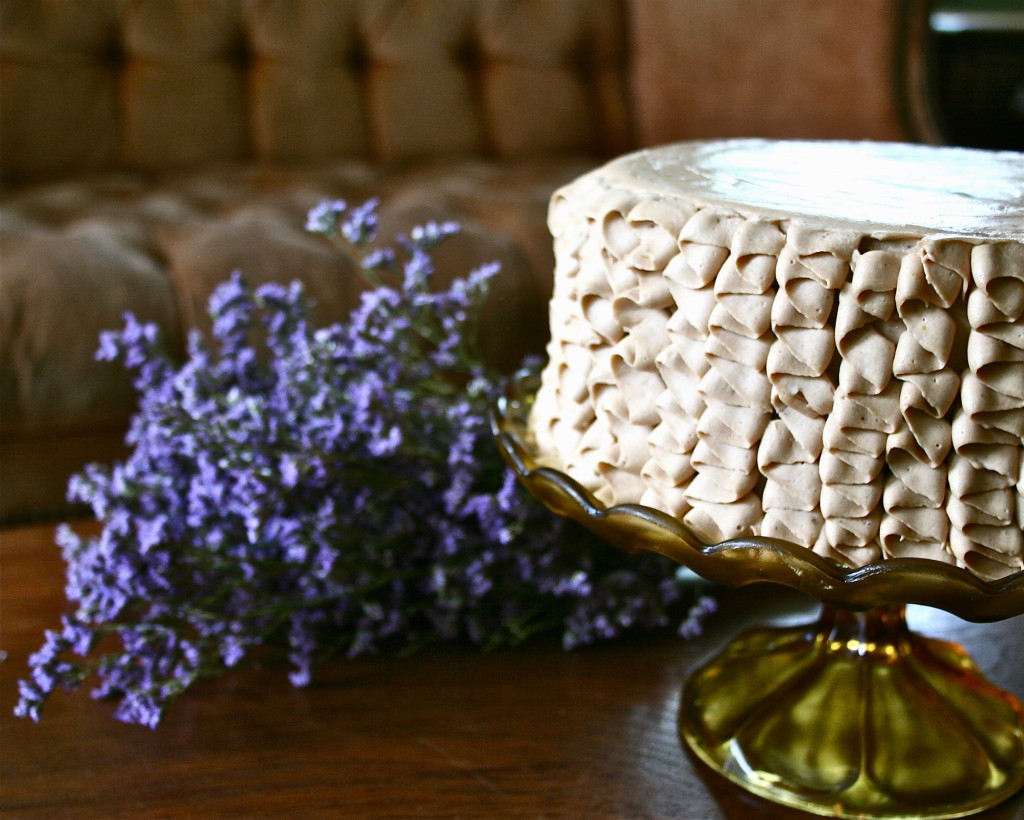 This cake turned out beautiful and tasted even better than my 8th grade rolos. I like my caramel on the salty side, so I added a healthy pinch of sea salt once bringing it off the burner. The salty caramel contrasted beautifully with the spongy chocolate layers.  Because Ryan and I don't usually eat entire cakes in one setting, we invited a few friends over to help us put a dent in this. We found that one small sliver was more than enough to satisfy any and all dessert cravings.
And that's what I like about my desserts. They are rich, but satisfying.
If you haven't had a chance, visit the website for Cake Stand and like me on Facebook. I'm baking two cakes this weekend, and I'd love to share both of them with you! And if you're looking for a cake in Austin, let me know.

Thick Caramel Sauce
1 cup butter
2 cups packed brown sugar
1 cup light corn syrup
1 can sweetened condensed milk
2 tablespoons whipping cream
2 teaspoons vanilla
1-2 teaspoons sea salt
1. Atttach a candy thermometer to a heavy saucepan. In saucepan, bring butter, brown sugar, corn syrup, and sweetened condensed milk to a boil over medium heat, stirring with a wood spoon.
2. Carefully and slowly stir in whipping cream. Be careful, cream will boil rapidly and can burn.
3. Continue to stir mixture until caramel reaches 238 degrees, the soft-ball stage. This will take anywhere from 5-15 minutes.
4. Remove from heat and add vanilla and salt.
5. Store in a glass jar after the mixture has cooled slightly. If your caramel is too hot, there is the risk of glass breaking.
Note: As caramel cools, it thickens. If you aren't using caramel right away, you can store for 1-2 weeks in a glass jar. When you're ready to enjoy your candy creation, spoon out a chunk (yes, it will be that thick), add a dash of cream, and then microwave in 15 second increments until smooth.
Chocolate Cake
*From Ina Garten
Butter, for greasing the pans
1 3/4 cups all purpose flour
2 cups sugar
3/4 cups cocoa powder (Hershey works well)
2 teaspoons baking soda
1 teaspoon baking powder
1 teaspoon salt
1 cup full-fat buttermilk, shaken
1/2 cup vegetable oil
2 extra-large eggs, at room temperature
1 teaspoon pure vanilla extract
1 cup freshly brewed hot coffee
1. Preheat the oven to 350 degrees F. Butter three 8-inch round cake pans. Line with parchment paper, then butter and flour the pans.
2. Sift the flour, sugar, cocoa, baking soda, baking powder, and salt into the bowl of an electric mixer fitted with a paddle attachment and mix on low speed until combined. In another bowl, combine the buttermilk, oil, eggs, and vanilla. With the mixer on low speed, slowly add the wet ingredients to the dry. With mixer still on low, add the coffee and stir just to combine, scraping the bottom of the bowl with a rubber spatula. Pour the batter into the prepared pans and bake for 35 to 40 minutes, until a cake tester comes out clean. Cool in the pans for 30 minutes, then turn them out onto a cooling rack and cool completely.
3. Place 1 layer, flat side up, on a flat plate or cake pedestal. With a knife or offset spatula, spread the top with the caramel filling. Place the second layer on top, rounded side up, and spread the frosting (recipe follows) evenly on the top and sides of the cake.
Chocolate Frosting
1/2 cup (1 stick) melted butter
1/2 cup cocoa powder
3 cups powdered sugar
1/3 cup milk
1 tsp vanilla
1. Melt butter in microwave or on stove. Stir in cocoa powder until combined. Slowly add powdered sugar, vanilla and milk beating on medium speed until light and fluffy. Add more milk if necessary. (I also added a few spoonfuls of my caramel sauce. Why not?)
Monet
Anecdotes and Apple Cores