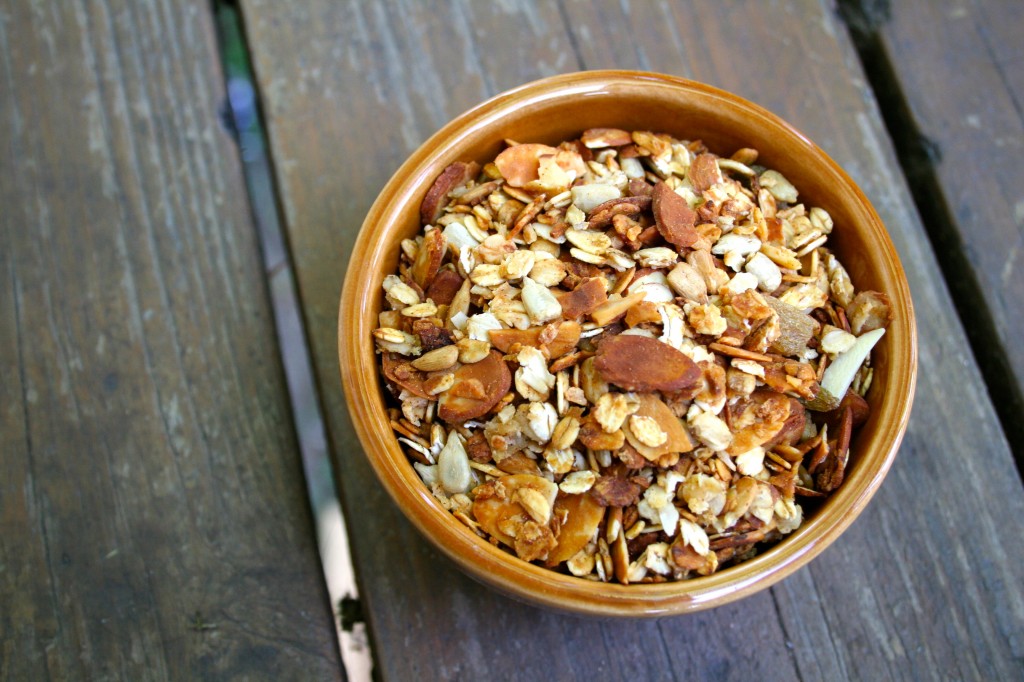 To begin a day with a bowl of yogurt and a handful of granola is a very good way to begin a day.
Recently, I discovered the unadulterated joy of full-fat yogurt. Seriously. Why have I been settling for less? If you haven't tried it, I suggest you go to the store and buy a few containers of organic, cream top yogurt (especially if you want to get pregnant…they say full-fat dairy is excellent for fertility).
Full-fat yogurt is cleaner and creamier, which might seem contradictory at first. But when you make a food product low-fat or fat-free, you alter or add. Take a look at your fat-free yogurt and you'll probably see several ingredients that are far removed from the farm.
So now that I'm on this whole-foods pulpit, I might as well convince you to make your own granola. Grocery store granola is expensive and cluttered. There are usually a handful of ingredients that don't need to be in there. Preservatives, refined sugars, artificial flavors, and colorings. And while I know that not everyone is a baker, ANYONE with an oven can make granola. It is easy, and your house will smell like cinnamon heaven.
In February, one of my best girl friends invited us to her house for brunch. Along with all sorts of deliciousness, she made a fabulous bowl of granola. After enjoying four helpings, I asked her for the recipe. This friend of mine also has the loveliest handwriting…the type of handwriting that makes me want to hang her letters all over my house. So imagine my delight when I received a handwritten recipe card.
Fast forward a few months, and I've lost that beautiful recipe card just HOURS before I want to make my own batch of granola. Does this happen to you? Because it happens to me all the time.
Thankfully, I'd stared at it enough times over the course of this spring that I had a rough idea of what made her granola so delicious. I consulted a few other trusted foodies, and I nailed down this recipe on Saturday night.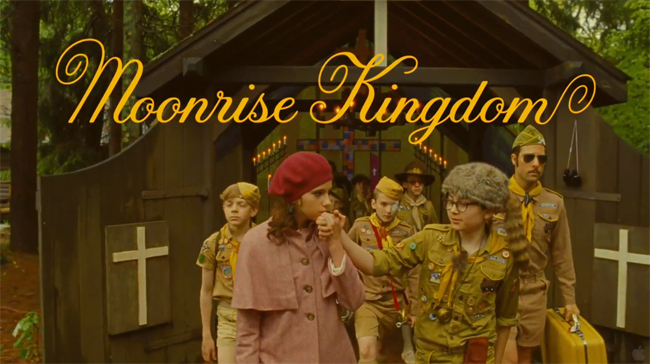 To make this granola even more special, I went to see Moonrise Kingdom with Ryan this weekend. We've been waiting to see this movie for months, and we were terribly disappointed in Paris when we missed the French opening by two days. Thankfully, Moonrise Kingdom was worth the wait. So can I say three things about that movie before sharing granola gold?
1. Ryan and I fell in love watching The Royal Tenenbaums (we named our dog Margot, after all). But in my opinion (I'm not sure if Ryan will ever admit this) Moonrise Kingdom was better.
2. In the first five minutes, we saw:  cross-stitched landscapes, a gray kitten, a sulky preteen wearing the most fabulous pink dress, and Bill Murray in plaid slacks.
3. Who doesn't want to find their soul-mate, escape familial and societal oppression, and dance in your underwear on a beach? Ryan and I are going to Maine in two weeks, and we're excited to have our own Moonrise Kingdom adventure along the coast.
So go see it, please. And bring a bag of this granola along. Because Moonrise Kindgom is set in the northeast at a field scout camp. Come on. Are you really going to eat popcorn? I think this coconut almond granola should be served at every screening.

Coconut Almond Granola
5 cups rolled oats
3 cups sliced almonds
1 cup sunflower seeds
1 cup unsweetened coconut
2 teaspoons cinnamon
1 teaspoon sea salt
1/3 cup agave nectar
1/3 cup honey
1/2 cup unsweetened applesauce
1/3 cup coconut oil
1. Preheat your oven to 350 degrees F.
2. In a large bowl, mix the oats, nuts, spices, salt, and coconut with a large wooden spoon. In a small saucepan, warm the coconut oil, applesauce, honey, and agave nectar. Pour fruit mixture over oats and nuts. Stir until oats are slightly moistened.
3. Spread on two large cookie sheets. Bake in oven, stirring mixture every 10 minutes, until gold and crisp to your liking.
4. Allow to cool before serving.* Granola can be kept in an airtight container for several weeks.
*Dried fruit can be added after baking granola.
 Monet
Anecdotes and Apple Cores