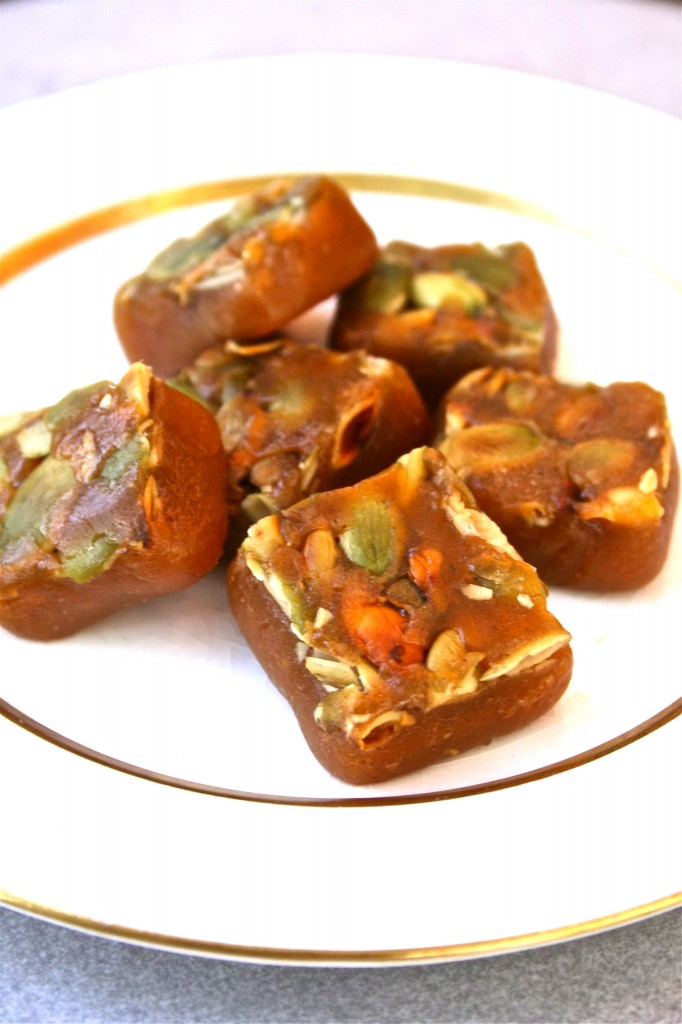 Caramels. And not your ordinary variety. These caramels are made with pumpkin, maple syrup, and toasted pepitas. These caramels are a sweet bite of fall.
With Halloween approaching, these caramels would make the perfect addition to a table brimming with cooler-weather fare. One batch makes 64 little caramels (and believe me, one bite is sure to satisfy the sweet tooth in us all!)
This week is full of baking and writing for me. I have a few events lined up this weekend, and I'm plugging away on my thesis. Day by day. Night by night.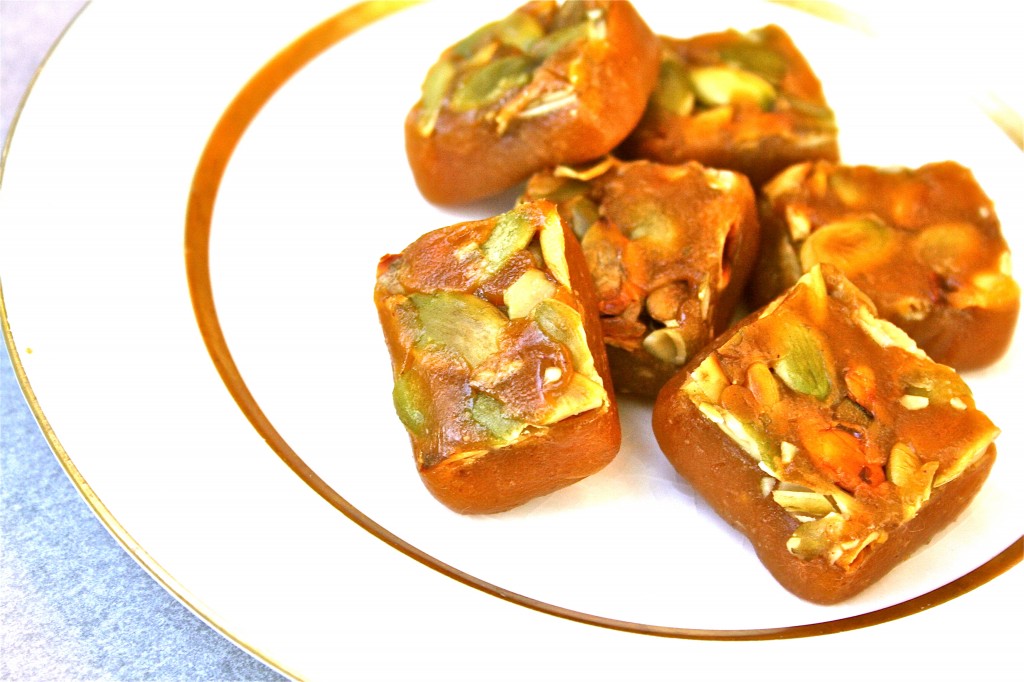 Ryan and I are in the market for a new bedroom set, and I can't wait until we can move our cheap Ikea bedframe and mattress to the curb. Perhaps I could tempt someone to buy me this lovely walnut set from Interior Addict with a few of these caramels? I think a sleek, clean walnut frame calls for ample quilts and pillows, right? It's all about balance.
And perhaps that is what I like most about these caramels. The balance of sweet and salty. The balance of chewy and crunchy. Not only are the flavors complex, but the textures are too.
So if you're afraid of making caramel (yes, I know we all are to a certain extent), take a leap of faith and give this recipe a try. All you really need is a good candy thermometer and a bit of patience.
Pepita Caramels
2/3 cup unsalted pepitas
1 1/2 cups heavy cream
2/3 cup pumpkin puree
1 teaspoon pumpkin pie spice
2 cups white sugar
1/2 cups light corn syrup
1/3 cup good maple syrup
1/4 cup of water
4 tablespoons unsalted butter, cut in chunks
1 teaspoon lemon juice
3/4 teaspoon fleur de sel
1. Dry toast the pepitas in a skillet until they start to pop.
2. Line the bottom and the sides of an 8-in square glass pan with parchment. Butter the parchment on the sides of the pan. Evenly spread out the toasted pepitas on the bottom of the pan, on top of the parchment.
3. In a saucepan, combine heavy cream, pumpkin puree and spices. Get this mixture quite warm, but not boiling. Set aside.
In a second heavy bottomed pan, with sides at least 4 inches high, combine the sugar, both syrups and water. Stir until the sugars are melted, Then let it boil until it reaches 244 degrees (the soft ball point on a candy thermometer). Then very carefully add the cream and pumpkin mixture, and slowly bring this mixture to 240 degrees as registered on a on a candy thermometer. This can take awhile — like 30 minutes — but don't leave the kitchen, watch it carefully and stir it more frequently once it hits 230 degrees to keep it from burning at the bottom of the pan.
4. As soon as it reaches the 240, pull it off the heat and stir in the butter and lemon juice. Stir vigorously so that butter is fully incorporated.
Pour the mixture into the prepared pan. Let cool 30 minutes and sprinkle the salt over the top. Let the caramels fully set (at least 2 hours) before using a hot knife to cut them into 1-inch squares and wrapping them individually in waxed paper.
Monet
Anecdotes and Apple Cores