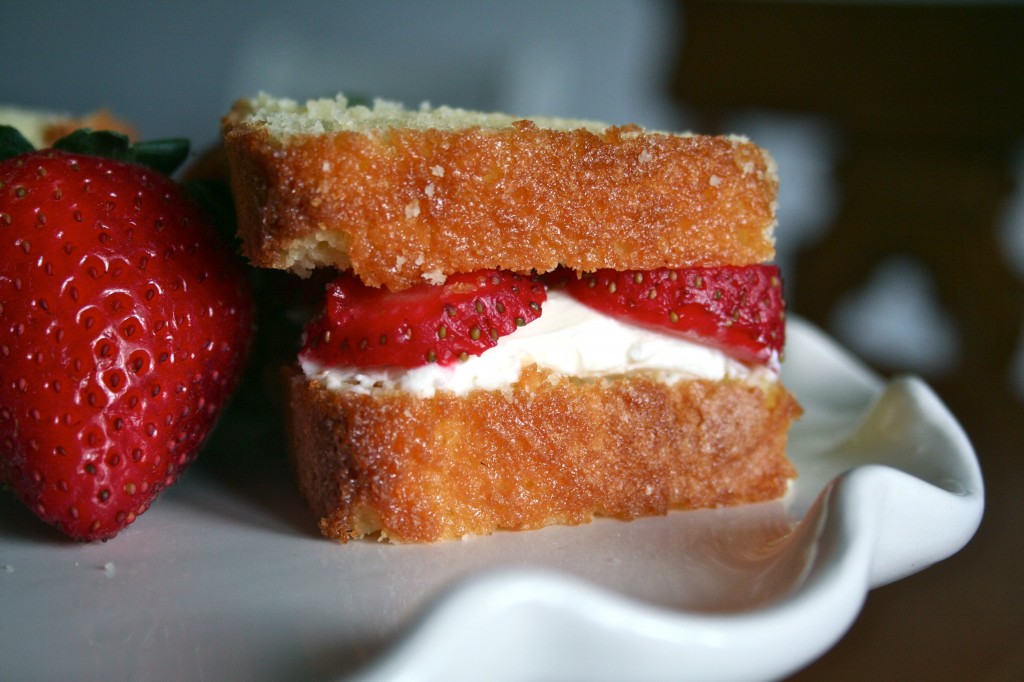 So I'm a list maker. Type A on most days of the week. With Lucy's arrival just around the corner, Ryan and I have been trying to savor these last few days. "Trying" is the operative word. Because even though I know we won't ever have this time again (just him and me), I'm also plagued with practicality. So when Friday night rolls around, I'm often torn between going out to see a movie with Ryan…and organizing my bedroom closet.
This simply can't be.
So with a little more than 30 days to go before my due date, I came up with a list. A list of fun (and even a few practical) activities I'd like to do before Lucille Amelia is born. Now, of course, I realize that she could come at any time, and I'm pretty sure she doesn't care if the list is completed. But having these goals motivate me to leave the house, to enjoy time with my husband, and I'm happy to say we've already been crossing items off our list.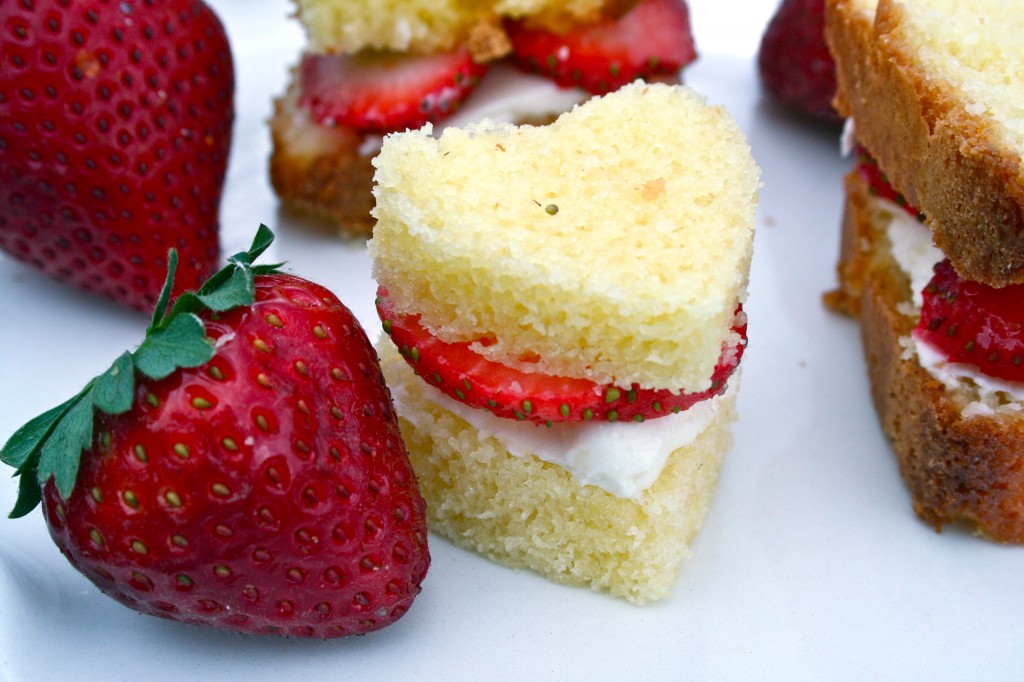 1. Dine at two NICE restaurants. This means at least 3 dollar signs on Yelp.
2. Go to a show. Ryan and I met at an Architecture and Helsinki show many years ago. We're hoping to catch David Ramirez at the beginning of June!
3. Go see a movie. Maybe Great Gatsby? There aren't too many good films out right now…but we need to do it while we can!
4. Hike in the mountains. We live in Colorado. No excuses.
5. Finish reading a novel. I'm about 100 pages into the Marriage Plot. Totally attainable.
6. Enjoy a leisurely breakfast at Adam's Mountain Cafe. Already done!
7. Go to Boulder's Farmer's Market and pick up doughnuts from Dizzy Doughnuts.
8. Invite my sweet niece Halley over for a sleepover.
9. Host a dinner party.
10. Go out to eat with friends (at least twice). One down, one more to go!
11. Finish Lucy's baby book. I told you there were some practical items on this list.
12. Print and organize pictures from Paris. Another.
13. Host a party.
14. Hang pictures and shelves in nursery.
15. Work in the front yard with Ryan. Pick out flowers and bushes.
16. Write. Daily.
17. Spend time with our siblings. Even if it means a long phone date!
18. Spend time with our parents. We have great ones.
19. Paint rocker with mom.
20. Go on a picnic.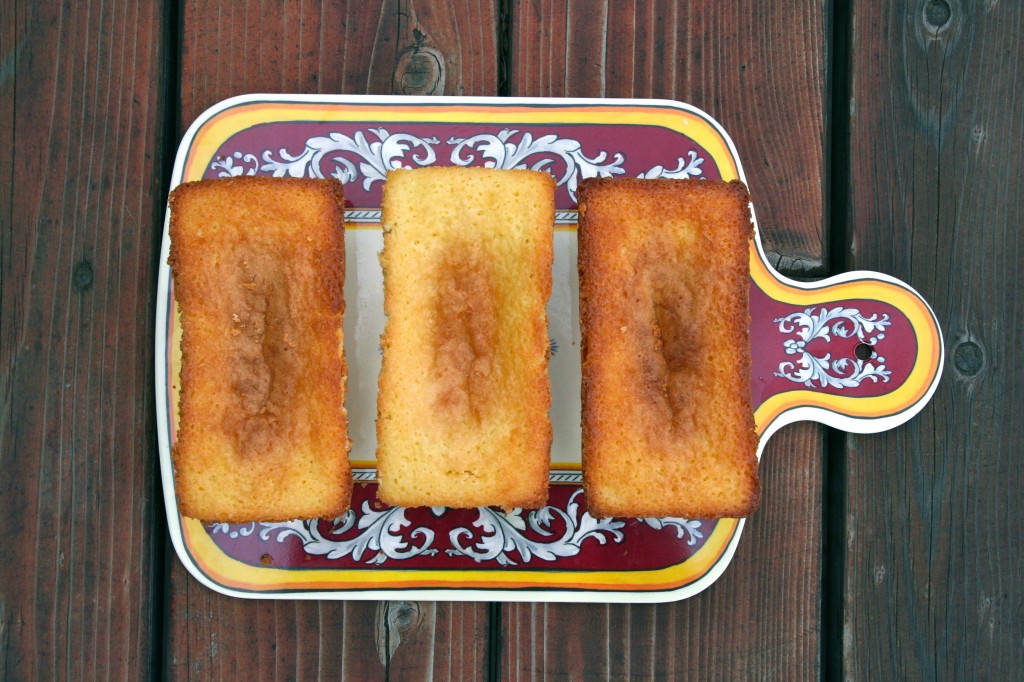 As you saw above, I really want to go on a picnic. The weather is perfect right now in Colorado, and I can't imagine a better way to spend a Saturday afternoon. Picnic fare is fun to make, fun to eat, and fun to share. I love strawberry shortcake, and I wanted to make tiny sandwiches we could take with us on our expedition (because bowls of whipped cream don't travel well. The result were these pretty little tea sandwiches. Perfect for picnics or for parties or for a lazy afternoon.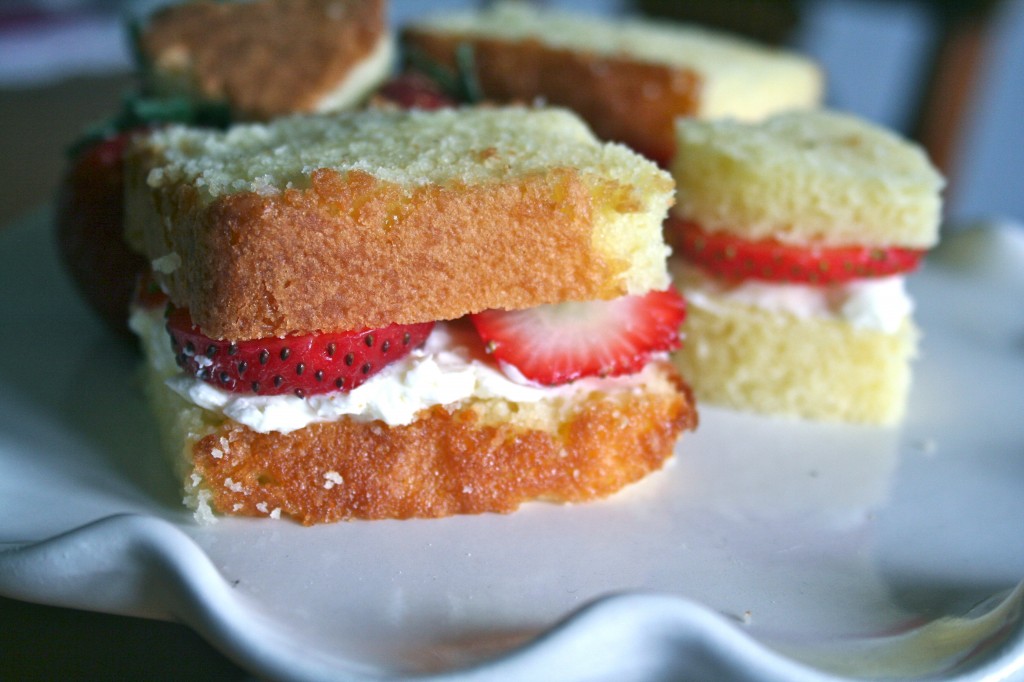 If you want to be ambitious, you can make pound cake from scratch. I've shared a REALLY GOOD recipe. One that won't disappoint. But I promise I won't judge if you pick up a loaf from the store. We're all busy (and as I approach motherhood, I realize this more and more!). I spread a thick layer of mascarpone cheese whipped with honey over one piece of pound cake and layered cut strawberries on top. The mascarpone is just slightly sweet, adding ideal balance to this summer treat. If you're not traveling with the sandwiches, you could serve them open-faced. But, if you're going on a picnic I recommend you place that top layer over the strawberries and cream.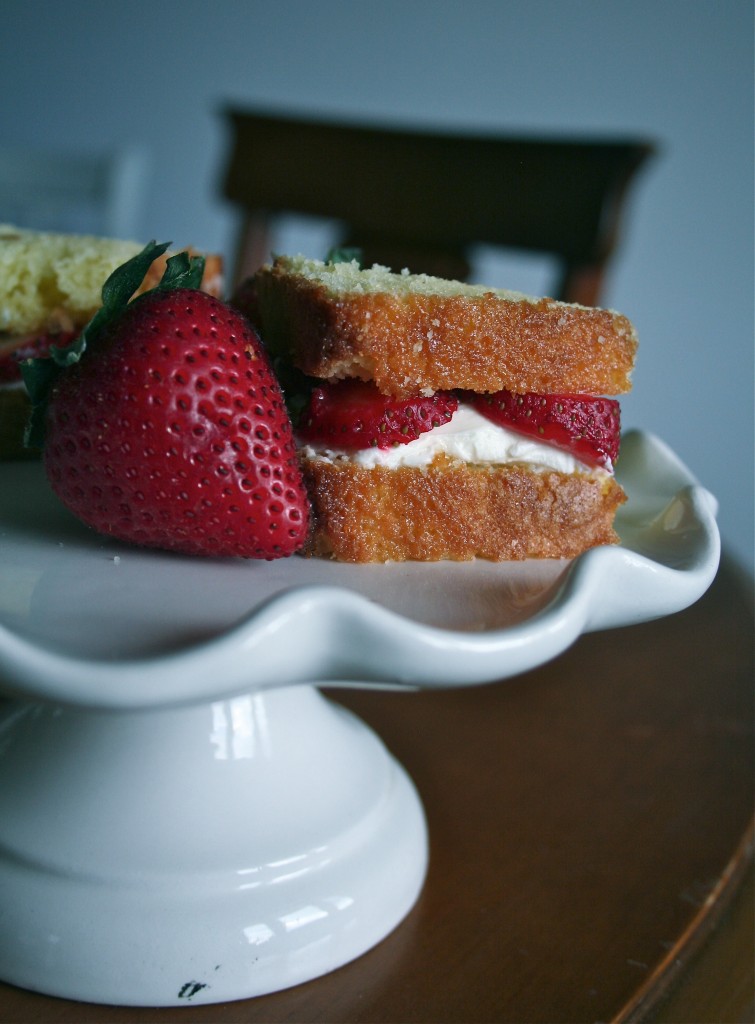 Strawberry Shortcake Sandwiches
Poundcake (see recipe below)
1 carton strawberries, sliced thin
1 cup mascarpone cheese (softened…allow to sit at room temperature for at least 30 minutes)
2 TBSP powdered sugar or honey (I prefer honey, but powdered sugar would also add the right amount of sweetness)
Whip together the softened mascarpone cheese and either honey or powdered sugar. Add more sweetener to taste. Cut standard shortcake (loaf pan size) into 1/2 inch, uniform slices. Cut each slice in half. Spread a thick layer of mascarpone cheese over one slice. Arrange cut strawberries over cheese. Place another slice on top. Repeat with remaining slices. Yields around 20 tea-size sandwiches.
Best Poundcake Recipe (From Epicurious)
2 sticks (1 cup) unsalted butter, softened, plus additional for pans
3 cups sifted cake flour (not self-rising; sift before measuring)
3/4 teaspoon salt
3 cups sugar
7 large eggs, at room temperature 30 minutes
2 teaspoons vanilla
1 cup heavy cream
Put oven rack in middle position, but do not preheat oven.
Generously butter two standard loaf pans and dust with flour, knocking out excess flour.
Sift together sifted flour (3 cups) and salt into a bowl. Repeat sifting into another bowl (flour will have been sifted 3 times total).
Beat together butter (2 sticks) and sugar in a large bowl with an electric mixer at medium-high speed until pale and fluffy, about 5 minutes in a stand mixer fitted with paddle attachment or 6 to 8 minutes with a handheld mixer. Add eggs 1 at a time, beating well after each addition, then beat in vanilla. Reduce speed to low and add half of flour, then all of cream, then remaining flour, mixing well after each addition. Scrape down side of bowl, then beat at medium-high speed 5 minutes. Batter will become creamier and satiny.
Spoon batter into pans and rap pan against work surface once or twice to eliminate air bubbles. Place pans in (cold) oven and turn oven temperature to 350°F. Bake until golden and a wooden pick or skewer inserted in middle of cake comes out with a few crumbs adhering, around one hour. Cool cake in pan on a rack 30 minutes. Run a thin knife around inner and outer edges of cakes, then invert rack over pans and invert cakes onto rack to cool completely.
PS. You'll only need one of two pound cakes for the the shortcake sandwiches.
Monet
Anecdotes and Apple Cores